Exclusive
Tawakal IDP Camp In Dire Condition
Al Shabaab Refuses Desperately Needed Aid to Displaced People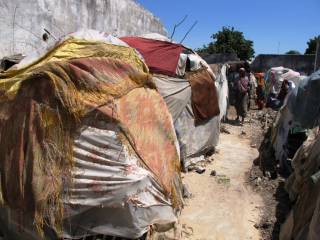 In a shanty hut made of sticks and clothes at Tawakal IDP Camp in Elasha, 14km northeast of Mogadishu, Mohamed Farah, a father of three children, sat miserably.
He and his family moved from their original residence in Mogadishu more than two times this year alone, but now they live in Tawakal camp where they have arrived a week ago due to heavy fighting between TFG and AMISOM forces against Al-Shabaab Islamic insurgents.
Latest estimates indicate that more than 410,000 IDPs (internally displaced people) currently live in Elasha, a place where people who flee from the fighting in Mogadishu stay.
"Since my family arrived here, we did not acquire anything, we need plastic sheets to cover up our hut," he said adding that the basic living requirements for the family were not met.
"We are desperately calling for emergency basic needs including food, water and sanitation because there is a lack of latrines," said Mohamed speaking to Somalia Report.
The Elasha area falls in territories under Al-Shabab control, one of the areas where the insurgent group banned international aid organizations from delivering humanitarian aids.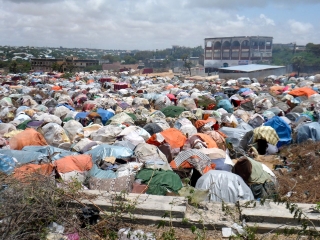 Madina Camps
In the southwest of Mogadishu known as Madina district, under the control of pro-government militias, new IDP camps were established and newly arrived IDPs from north and south Mogadishu received emergency food rations.
"We receive seven to eleven families per day and the flow of influx of the IDPs is going on," said Ali Mohamed, an administrator of Midnimo IDP camp in the district.
The IDP in Madina and Wadajir seem to flexible comparing to Elasha, where young students recruited to fight for Al-Shabab " said Amin Mohamed speaking to Somalia Report in Mogadishu.
Estimates indicate that there are 107 IDP camps around Madina and Wadajir districts with a population of more than 175,200 people.
IDPs from Elasha are now moving to Madina and Wadjir camps since Al-shabab took control of the areas known as Afgoi –IDP'S –corridor imposing strict rules including that IDPs be supposed to join fighting against the government.
The UN previously announced that over two million Somalis are in desperate need of humanitarian supplies due to the devastation of drought and escalation of violence.