British Minister's Pioneer Visit to Puntland
British Delegates Visit Puntland Prior to London Conference on Somalia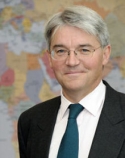 A delegation led by the British Secretary of State for International Development, the Hon. Andrew Mitchell, arrived in Garowe, capital of the semi-autonomous region of Puntland today. Upon their arrival at Garowe airport, the dignitaries were warmly welcomed and received by Puntland government officials. They later had a meeting with Puntland Vice President Abdisamad Ali Shire and various cabinet ministers.
The media was jointly addressed by Vice President Shire and Mr. Mitchell. The vice president informed the press of the discussions they had conducted with the delegation, which were in relation to development initiatives in Puntland by the British government and how the ties between the two governments could be enhanced. Piracy was top on the agenda in the meeting, the vice president told reporters. One of the vital issues mentioned was the upcoming UK Conference for Somalia which is to be held in London on February 23, 2012.
Mr. Mitchell also spoke to the media about his impression regarding his visit, and gave some insight on the fruitful discussions he held with Puntland officials.
"I am very happy to be the first minister from Britain to visit Puntland region. I had very positive discussions with Puntland's vice president about the British government funded projects in Puntland and the upcoming Somalia reconciliation conference which is going to be held in London,'' the minister said.
"We plan to visit the fish market where a project funded by the British government was implemented and we hope that this visit will lead to other projects. We have also discussed the piracy problem with the Puntland government as well as possible strategies on how to tackle this issue as well as similar challenges that are harmful to peace in the region," Mr. Mitchell added.
The delegation also paid a visit to Garowe General Hospital, one of its police stations, the main jail, and Puntland State University.
Mr. Andrew Mitchell is the first minister from Britain and the European Union to visit Puntland. His visit coincides with the ongoing plans for an international reconciliation meeting to be held in London, which will include delegates from Puntland.