Exclusive
Former Al-Shabaab Fighter Tells of Past Life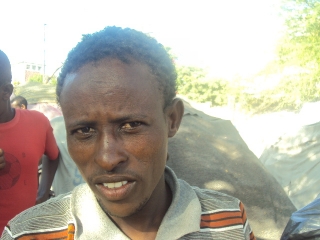 Recently,
Somalia Report
interviewed Ahmed Ibrahim, a former al-Shabaab fighter who is in the process of re-starting his life at Kakuma refugee camp in northwestern Kenya.
Mr. Ibrahim, thank you for this exclusive interview. Can you give us a brief history of your past?
Thank you for this interview. In fact, when I reflect back my recent past, I remember a lot that still shocks me to think about. I can remember vividly in 2009 when I joined the Islamists in Baidoa, because I was influenced by a friend of mine who was with al-Shabaab at the time.
Can you tell us about your time with the Islamists?
Yes during my time with al-Shabaab I worked as a policeman in different parts of the country, including Bardhere, Kismayo, and many others. After I had undergone some training I was made head of the Da'wa (preaching) department in Afgoye for a while. During that time I was subjected to brainwashing, and taught to believe that it is lawful to kill anyone who disagrees with you.
Did you participate in any battles against the Somali Transitional Federal Government (TFG) or African Union peacekeepers (AMISOM)?
No, as I told you I was just a policeman and I never participated in any war. Police are security personnel and to that effect I never took part any direct confrontation, which is why I am still alive. I know several friends who went to war and never came back.
When did you leave al-Shabaab, and what inspired you to leave?
I left in February of 2011. I tried to make up excuses to leave, but they did not give me permission. Even when I promised that I would come back, the officer in charge declined my request. Joining the Islamists is very easy, but to leave is risky. They may suspect you of giving out their secrets and kill you. Finally, I took a stand and left.
Were you followed after you had left?
Yes, I was followed. I heard that my name had been put out at every checkpoint, but with help of God they never captured me. When I arrived at Hagardhere (refugee camp, part of the Dadaab complex) I requested UNHCR (United Nations High Commissioner for Refugees) to take me to Kakuma for my safety, which they agreed to do. One month after my admission I was taken here. Thanks to God I am very comfortable.
During your time with the Islamists, did you come across any foreigners?
Yes I met so many of them, some from the Middle East, others from Europe and Africa. The trainers are foreigners. Even sometimes we received letters from foreigners, and were told they were from our brothers. I don't know where the letters were being sent from.
How were prisoners of war dealt with?
I cannot exactly say, since I was absent from all the wars, but can only speak of those who were brought to my area. If the captive was Muslim, they gave him a serious warning and told him to defect from his group, but if he was a non-Muslim he was slaughtered. That work was done by specialized personnel, not police officers like me.
Thank you, Mr. Ahmed Ibrahim