UN Political Office Relocates to Mogadishu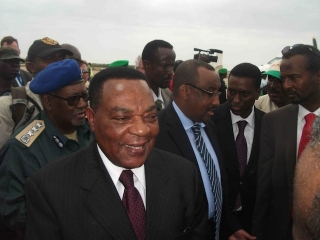 The United Nations Special Representative of the Secretary-General (SRSG), Augustin Mahiga, arrived in Mogadishu earlier today to open an office of the UN Political Office for Somalia (UNPOS). It will be the first time in 17 years that the SRSG has been based out of the Somali capital, following Ghanian James Victor Gbeho's departure from Mogadishu in 1995.
Mr. Mahiga was warmly welcomed at the airport by Transitional Federal Government (TFG) Prime Minister Abdiweli Mohamed Ali, after which he made his way to Villa Somalia, where he was greeted by President Sheikh Sharif Aden. Mr. Mahiga then paid a visit to African Union (AMISOM) headquarters in Halane, where the UNPOS base is to be located.
Abdirahman Omar Yarisow, spokesman for the TFG, provided a statement to Somalia Report.
"This is very great opportunity for us, and we must work with UN officials, who have made a lot of efforts to help the Somali people."
"I sincerely hope that the arrival of the UN Political Office will mark the start of renewed hope for the future of Somalia," said Mr. Mahiga. "Being in Mogadishu will allow us to work far more closely with the Transitional Federal Institutions, the UN agencies and NGOs already based here, civil society and ordinary Somalis. We have much to do and we are eager to get straight to work."
"Now we are here working among you, I believe we will see significant progress on implementing priority tasks in the Roadmap to restore peace and stability to Somalia," the added, referring to the current UN plan to achieve national reconciliation among Somalia's disparate factions.
The TFG has been calling for some time for the UN to relocate its offices to Mogadishu from Nairobi, but only after UN Secretary-General Ban Ki-moon visited Somalia in December 2011 did the UN announce that the move would be made. Many Somalis complain that UN agencies spend the bulk of their budgets on houses and vehicles in Nairobi, rather than on Somalia's problems.