TFG President Visits IDP Camps in Mogadishu
President Vows to Assist IDPs, Take Action Against Looters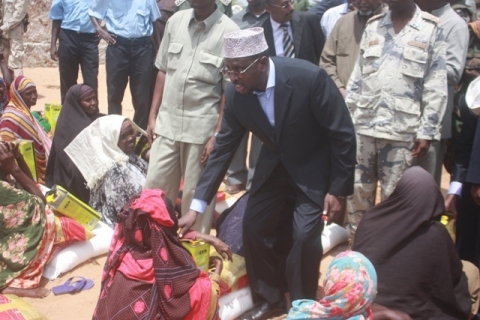 The president of Somalia's Transitional Federal Government (TFG), Sheikh Sharif, today visited the Rajo and Badbaado internally displaced persons (IDP) camps in Mogadishu with several high ranking government officials.
TFG Trade and Industries Minister Abdiwahab Ugas Hussein Ugas Khalif, who is also the deputy prime minister, police officers and members of parliament accompanied the president to provide aid to the IDPs and get an update on their situation.
President Sharif told the drought displaced people that they will soon be free from food shortages, threats from al-Shabaab militants, and that his government would not tolerate looting.
"We are ready to do our best in assisting our people in Badbaado and Rajo and across the country. We will take action against anyone who tries to loot food from internally displaced people," said the president referring to incidents of TFG soldiers stealing food aid.
The president added that his administration created of a special unit ensure security in IDP camps after reports of looting and rape increased over recent months.
Adem Ali, a 63 year old in Badbaado camp, was pleased the president visited the camp to shed light on their plight.
"Presidents Sheikh Sharif visited us today. We are happy to see him and to tell him our problems. He promised to protect us. Today we received dry food which is good for us, as we able to exchange some other items or to keep it," Adem told Somalia Report.
Tens of thousands of IDPs fled to Mogadishu last year fleeing both the drought and al-Shabaab militias.
Badbaado IDP camp, located in Dharkenley district of Mogadishu, is the biggest camp in the capital and hosts over 40,000 IDPs.
Meanwhile TFG Deputy Minster of Defense Mohamed Ma'lin Nour, Deputy Minister of Livestock and Farms Hirsi Adan Roble, and other TFG officials visited IDPs in Hodan District of Mogadishu and passed out sugar, rice and oil to 180 families.