Feature
Dadaab Leaders Urge Refugees Against Al-Shabaab
Refugees Start Own Security Teams to Patrol Against Presence of Al-Shabaab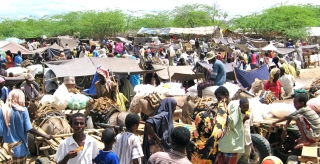 Kuusow Abdi Muumin, a leader at Hagardeer refugee camp, declared at a gathering where
Somalia Report
was present that al-Shabaab is responsible for the attacks on his people, "Al-Shabaab is against us, they don't need our lives as Somali people. As you see, we fled Somalia because of them, and even here they have come to disrupt us. As your leader, I urge you to inform the police about any individual who you suspect of trying to harm our security."
He added, "If al-Shabaab sees any Somali people living in peace, they come to kill off that peace and start violence. That is clear, as you know al-Shabaab came here and kidnapped those who came to help us, they have killed security officers who were keeping us safe. So you have to protect yourself from those people, if you don't defend yourself you will keep running away," said Mr Kuusow.
Sheikh Mohamed Abdulaahi, an Imam at the Ifo refugee camp told Somalia Report, "As you know, the al-Shabaab fighters are so cowardly, they hide amongst us in the refugee camps and bombard the police who are patrolling for our security. It is compulsory for anyone to point out and kill those belonging to al-Shabaab."
Sheikh Mohamed added, "Our religion doesn't allow us to kill those who came here to our refugee camps to help you and support you. But these al-Shabaab, they don't respect Somali victims, people who have abandoned their homes. That is why I urge you to protect yourself and work with security teams, that means to allow the police to capture anyone who supports or has ties to al-Shabaab in the refugee camps."
Dahir Abdi Farah, an elder and businessman in the Ifo refugee camp, told Somalia Report that he encourages refugees to be aware that al-Shabaab are not truly Muslims, which he say is indicated by the violence they bring down on poor and weak people. "Our business and movement are restricted, and as we are refugees, we didn't get full help and support since October, after al-Shabaab kidnapped the aid workers. I need all refugees to keep an eye out for those who attacked us. We are responsible for our own peace and security, and we will achieve this if we work together and work with the Kenyan security teams."
Bombings started in the refugee camps in October when the Kenyan military invaded southern Somalia after al-Shabaab kidnapped two MSF aid workers, thus far four bombings have killed three police officers and injured four others.
On Wednesday, Kenyan security police arrested three suspects and captured explosive material at Ifo refugee camp, after they were informed that a home in the camp contained explosives.
The insecurity in the camps since October, which reduced the presence of aid agencies in the camps, has also caused many refugees to despair. Getting water, food, medicine and necessities has been difficult, since aid agencies have feared for the security of their personnel.
However, the refugees are now making initiatives to guard against the presence of al-Shabaab and have started refugee security teams which are patrolling the camps.