Kenyan Security Forces Seize Explosives
Three Somali Women Arrested in Dadaab Refugee Camp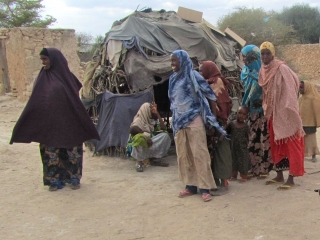 Kenyan security forces conducted a security operation Thursday in Ifo refuge camp near the Somali border, one of three settlements making up the larger Dadaab complex, seizing grenades, landmines, and other explosive materials from residents' houses.
Security forces arrested three Somali women on suspicion that they had links to the unknown group responsible for stockpiling the material.
"Kenyan security forces are investigating house by house. They arrested three Somalia refugee women, saying that they know who stored the explosive materials in the house," Mohamed Abdalla, a Somali refugee in Ifo, told Somalia Report.
This comes three days after a Somali refugee leader was shot dead in Ifo by three unknown gun men. Kenyan security forces arrested 20 Somali refugees in Ifo, including women, following the incident.
Camp inhabitants reported a similar security crackdown in the aftermath.
"Kenyan security forces arrested dozens of refugees and beat up others in the operation looking for explosives. They are seeking al-Shabaab members," Ahmed Mu'min, a camp resident, told Somalia Report.
Since Kenya sent troops into Somalia last October, grenade attacks, killings, and roadside bombs have been on the increase in northern Kenya, with at least 28 people killed and dozens injured in the northeastern cities of Wajir, Mandera, and Garissa, as well as the Dadaab camps.
In late December, Kenyan authorities heightened security in Dadaab after a Kenyan police vehicle hit a landmine buried in the road, instantly killing one officer.
Dadaab, located about 100 kilometers from the Somali border, is the world's largest refugee camp, sheltering more than 460,000 people, according to the United Nations High Commissioner for Refugees (UNHCR).