UPDATE
AU Regional Meeting in Ethiopia
Strategy Developed to Attack Shabaab on Four Fronts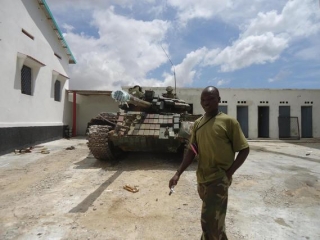 African Union (AU) held a meeting on Wednesday to develop their strategy against the al-Shabaab militants fighting against troops from the Transitional Federal Government (TFG) and African Union Mission in Somalia (AMISOM). The defense ministers and senior military officers of six eastern African countries met in Addis Ababa, Ethiopia to work out a strategy to confront al-Shabaab.
AU Peace and Security Commissioner Ramtane Lamamra told the media that the plan developed in Addis Ababa will expand on the basis of recent victories in the battle against al-Shabaab, including the recent seizure of the strategic town of Beledweyne by TFG and Ethiopian forces.
"We have been working on a new strategy that will take account of the developing situation on the ground, including the forced withdrawal of al-Shabaab from Mogadishu, the new achievements by Kenya and the TFG in the south, as well as the promising initiative taken by Ethiopia in support of TFG with Beledweyne being liberated," Lamamra said in a statement.
TFG Defence Minister Hussein Arab Isse, who took part in the meeting, told media that the international community is ready to help Somalia and this meeting is part of a larger strategy to bring lasting peace to Somalia. "The government has worked hard and we have removed al-Shabaab from many regions including the capital, and the outcome of this meeting will put the finishing touches on an operation already started by the government," he said.
Defence ministers and senior military officials took part from Somalia's neighbours, Ethiopia, Djibouti, Kenya, Burundi, and Uganda; and sources close to the TFG say that all the countries that are part of the AMISOM mission will have specific regions of engagement, in order to avoid confrontation between the military operations and misunderstanding between the various forces. Ethiopia, however, has said that it will not join AMISOM and plans to leave Somalia soon. The Kenyan government formally requested to join AMISOM.
Diplomats who attended the meeting say they hope UN Security Council funding for AMISOM would allow for a naval front to be opened along Somalia's eastern coastline.
Source close to TFG leaders say that AMISOM troops are hoping that they will get financing from United Nations (UN) and European countries in order to fulfill the new military plan and to eradicate al-Shabaab from all of east Africa, including eliminating their economic base in the strategic port of Kismayo.