UPDATE
Foreign MSF Staff Gunned Down in Mogadishu
MSF Logistics Officer Arrested and Charged With Killings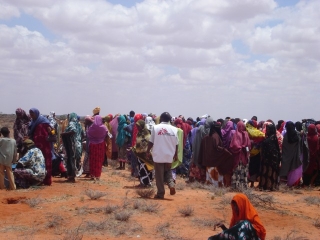 A Medecins Sans Frontieres (MSF) field coordinator from Belgium was killed instantly when a gunman attacked the MSF compound in KM5 district late on Thursday, and another staffer, an Indonesian doctor, died hours later from gunshot wounds at the nearby Madina hospital.
The two killed, Philippe Havet, 53, and Andrias Karel Keiluhu, 44, were helping provide emergency medical assistance in Mogadishu. MSF confirmed the deaths on Thursday, "We are deeply shocked by this shooting sadness event and we will greatly miss Mr. Philippe and Mr Kace."
On Friday, MSF issued a statement stating, "It is with great sadness that Medecins Sans Frontieres (MSF - Doctors Without Borders) confirms that two MSF staff members were killed yesterday... as a result of a shooting in the organization's compound."
An unnamed Transitional Federal Government (TFG) soldier within the MSF compound told Somalia Report that Mohamed Salad Farey (also known as Ahmed Nur), formerly employed by MSF as a logistics officer, was behind the attack, in a claim corroborated by other locals. Mohamed was discharged from the MSF office the day before the attack following a financial dispute with Philippe Havet. MSF believes the killings to be due to the financial argument, and not to have a political nature. He had worked with MSF in Mogadishu since August, and prior to this he worked with the organisation in Galgudud. "Disputes between field teams and local staff have arisen in recent days, and this incident is surely related to that," the TFG soldier said.
The Minister of Information, on behalf of the Transitional Federal Government (TFG) sent heartfelt condolences to the families of the victims saying, "This unfortunate incident in no way reflects on the security situation in Mogadishu, which has not witnessed any actions of this kind for some time." He added, "We must not forget that this incident did not involve any lapse of security on the part of TFG/Amisom forces, and was not the work of the insurgents, which have been the main security focus of the government." The killer is set to be arraigned in court in a matter of days, pending investigations into the motive of the killing.
Somali Interior Minister Abdisamad Maalim Mohamud called on international aid agencies operating in Somalia and those wishing to open up offices in Somalia to liaise with the ministry. "We as the Somali government are deeply sorry for the tragedy. Nonetheless, the Somali intelligence agencies have arrested the killer," he told journalists. The Minister called on aid agencies to continue with the good work of assisting the drought-ravaged Somali people.
Philippe Havet, a 53-year-old emergency coordinator from Belgium, and Andrias Karel Keiluhu, known as Kace, a 44-year old doctor from Indonesia, were helping provide emergency medical assistance in famine-hit Mogadishu.
MSF Belgium has been operating in Mogadishu since last August, where they have hired out-of-work Somali nurses and opened more than 10 child feeding centers to assist famine victims.
Somalia Report will continue to follow developments closely.