UPDATE
Kenyan Response to Attacks in Refugee Camps
Police Arrest Two Suspected Al-Shabaab Militants in Security Crackdown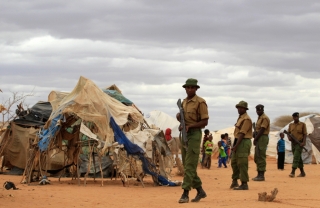 A landmine explosion has killed a Kenyan policeman and left two others wounded in the world's largest refugee camp of Dadaab, in northeastern Kenya.
Witnesses said that the police vehicle hit a landmine in Hagardere, a refugee camp belonging to the Dadaab complex. The policeman died on the spot, while two of his colleagues were admitted to an NGO-run medical facility in critical condition. The explosion site and the medical facility have been cordoned off while Kenyan soldiers carry out a security operation in the area.
In another incident, an IED that detonated in a refugee camp in northern Kenya on Tuesday nearly struck a car carrying a senior police officer, without casualties.
Kenyan police arrested two Somali men in Dadaab on Monday night, suspecting them of being al-Shabaab militants who allegedly disguised themselves as refugees to enter the camp. Acting Dadaab District Commissioner Bernard Ole Kipury told Somalia Report that they have intensified patrols in the camp and will be conducting operations to flush out the militants. Witnesses in the Ifo camp in northeastern Kenya claim that as many as 20 Somali men, refugees in the camps, have been detained by Kenyan military police. Aid workers rely on Kenyan police for security after Somali gunmen kidnapped a Kenyan and two Spanish aid workers from Dadaab.
"The police are arresting anyone they suspect, and even those who are loitering inside the town without good reason," said Farhan Dairiye, a resident of Ifo camp who spoke to Somalia Report.
A pro-al-Shabaab website claimed that five soldiers died and twelve more were injured in the attack.
Kenya sent thousands of its troops into Somalia in October after aid workers were kidnapped in September. Kenyan officials have accused the militant group al-Shabaab of being responsible for more than a dozen bomb and grenade attacks. An al-Shabaab spokesman in the Gedo region spoke with Somalia Report.
"The bombings our Mujahidin are carrying out are retaliation. These are just small blasts, we are planning massive suicide bombings which will inflict heavy casualties on the government of Kenya," said Sheikh Yunis Abu-Zeyd. "We warned Kenya repeatedly to withdraw their troops from Somalia, but after heavy explosions the government will realize and finally withdraw its troops," he added.
Abu-Zeyd promised al-Shabaab will continue their attacks until they reach their objectives. "There will be flames everywhere in Kenya," he vowed.