Business Boom in IDP Camps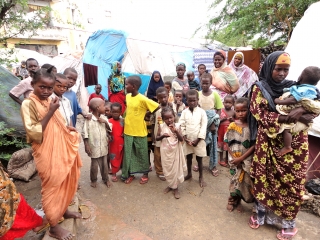 Internally displaced persons (IDPs) in camps in Mogadishu are redirecting their relief aid supplies into commercial operations. Several IDPs are selling the financial support they receive from the local Non-Governmental Organizations (NGOs) in town. Rago refugee camp now has different businesses that belonging to these entrepreneurial IDPs.
Hussein Ahmed began a small shop in Rago camp after he relocated to Mogadishu four months ago, leaving his farm due to drought. The 35-year-old man and father of five sells sea food, cake, sandwiches and soft drinks, from which he makes a profit of approximately $75 a month, which is enough to feed his family. "During the first two months, I made a profit of $100 which helped me buy more stock to expand my business," said Ahmed, adding that he hopes to open another shop in the camp soon.
Amina Mukhtar, a 40-year-old mother, says she decided to open a small business to earn a living, instead of relying on humanitarian aid alone. Amina, a widow an mother of three, buys firewood from locals and sells it to others such as the orphanages in the camp. "I get a daily income of about $2, which is enough to take care of my family," said Amina. She says that although some women are raped as they collect the fire wood which they sell her, the business has sustained her and her family well. "I started this business one-and-a-half months ago, after borrowing $50 as capital from a relative who also sells fruits and vegetables in the camp, and most of my customers live in the camp too," Amina added.
Rahma Isak, 47 and a mother of five, says she buys milk from the camp to sell in Mogadishu, a business that generates her good profits."I used to buy 20 liters of milk two months ago but now I have increased the amount to 100 liters due to high demand," said Isak. She says that although some IDPs in the camp are happy to do business in the capital, others are returning home to their farms, because the rains have returned.
Rago camp is one of the largest IDP camps in the war torn capital, with a large market where one can easily get basic items at an affordable price. These entrepreneurs say the Somali authorities are working hard to ensure that security in the camp is maintained, something they says has helped them run their business safely.
"Ahmed Hassan, the commissioner of Wadajir district, has deployed his security officers in the market and hence no thefts or robbery are reported in the camp," Osman Ibrahim, a retailer in Rajo camp, told Somalia Report.