Solar Lighting Project for IDPs in Bosaso
UNHCR and DRC Helping to Improve Living Conditions for IDPs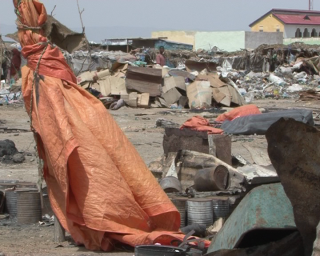 In a bid to help Somalia's internally displaced people (IDPs) in Bosaso, a coastal city located in the Bari region of Puntland, the Danish Refugee Council (DRC) began a solar lighting project to enhance the living conditions of the IDPs in the area, Bosaso officials said.
The project is funded by the United Nations High Commission for Refugees (UNHCR) and is being implemented by the DRC, which is working closely with Puntland's Ministry for the Interior as well as local governments on the construction and installation of the solar lighting system in both Shabelle and Badbaado, the two largest IDP camps in Bosaso, according to Mohamud Ahmed Mohamed an official in the ministry.
He stated that this project is aimed at supporting the basic needs of the IDPs and to help develop their infrastructure, education programs, businesses, security and to improve their overall livelihood.
Mohamud Ahmed Mohamed said although the funding and implemention is being handled by the UNHCR and DRC, the local government in Bosaso, the owners of the land which is hosting the IDP camps, and the leaders from both IDP camps are taking part in the project.
"This lighting system is aimed to help the IDPs with basic needs at night including the ability to buy and sell goods, continue education, and the security of their camps" he told Somalia Report.
IDP's Jubilation for the Project
Mustafe Abdullahi Lidoow, the chairman of Badbaado camp, told Somalia Report that the IDP communities are very happy about the new lighting system and he expressed these developments will dramatically improve the conditions for the IDPs.
He said the project will not only help the IDPs, but also will increase the interaction of the host and migrant communities in Bari region because many people will able to benefit the street lighting system including business and small shops.
The chairman added that both host and displaced communities will be trained the construction and the installation of the lighting system.
He commended and asked the Puntland government, UNHCR and the DRC to sustain and continue this project.
Solar lighting system in the IDP camps is not a new initiative in the city of Bosaso. Earlier the UNHCR and DRC successfully constructed and installed a solar lighting project in Seyladda Xoolaha IDP camp.