IDP Kids Dying, Desperate for Help
23 Children Died at Beled-Weyne's IDP Camp in 48 Hours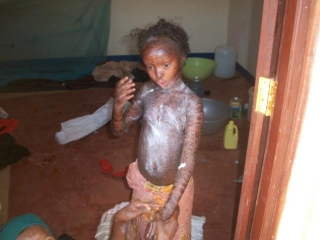 More than 20 Somali children have died and dozens of others are suffering from different diseases at the camps for internally displaced people (IDP) in Beled-weyne district of Hiiraan region over the last 48 hours, mostly from malnutrition, diarrhea and measles.
One of the IDP leaders, Magaalo Hussein, told Somalia Report that the most affected children are less than five years of age and approximately seven to ten children die there everyday, and there is no relief coming.
"Those children died from lack of nutrition and other general diseases like measles and malaria. This week we have buried 23 children. These children have not received any help. No agency is giving them nutrition food or healthcare. We need immediate emergency humanitarian aid so that we help the children," she added.
Meanwhile other cases of deaths have been reported from Bulo-burde, Jalalaqsi, Burdho, Buq-aqable, Daynuunaay, Diinsoor and other districts in southern Somalia, where al-Shabaab fighters resettled the people and denied aid agencies from helping them.