Feature
IDPs Complain of Looting and Lack of Security
IDP Camps in Mogadishu Fear Rampant Looting and Threats From Troops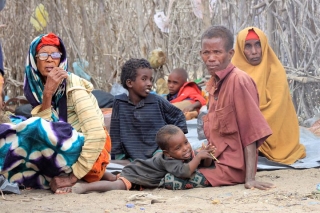 Internally displaced people (IDPs) living in camps in Mogadishu have complained of armed men wearing uniforms of the Transitional Federal Government (TFG) preying on the weakened people, already suffering from the effects of a devastating drought.
There have been repeated concerns in the camps of IDPs, concerning robbery and the looting of food aid intended for needy people. The TFG has attempted to address their concerns and deployed Special Forces in the camps to maintain security, but the IDPs are still concerned for their safety despite the forces deployed.
"Since we arrived here, there were armed men taking all the food from us. They have been snatching every little that we get, they also come at night time and threaten us with their weapons and take the little that we have in stock," Halima Nahar, an IDP, said.
After Mogadishu was liberated from the control of al-Shabaab militants, the TFG military court issued a decree that called for the protection of the displaced people. Colonel Mohamed Hussein, the Somali court martial prosecutor, said that any soldier found looting and robbing the poor will be executed to reduce such cases.
Over the past few months, several incidents have occured that highlight the concerns of the IDPs. In August, 10 people lost their lives in a gun battle that broke out between government forces and IDPs in Badbado IDP camp. In October, two IDP women were killed in a fight between TFG forces in a camp in Mogadishu, and least 11 people died when TFG forces stepped into a food rush in Waberi district. On November 1st, a TFG soldier opened fire on a crowd in the Yaaqsiid district, 4 people were killed and others were injured. The next day, a young IDP male who defied a demand to give up his cell phone to a TFG soldier was shot, and the same day, TFG forces opened fire on a demonstration by IDPs protesting looting, killing one and injuring others. On November 19th, a khat-seller was killed by a TFG soldier in a dispute over the sale price. On November 20th, TFG soldiers shot one IDP in the Karan and looted their camp.
The Chairman of the Somali National Disaster Agency, Abdullahi Mohamed Shirwa, has on various occasions said that the TFG police at Badbaado and other affiliated IDP camps have forced the agency's workers to leave. The organization, which was intended to manage aid for internally displaced people in Mogadishu, was formed by the TFG government. Staff working for the Somali National Disaster Agency have also been threatened strongly by the Somali police.
Abdulkadir Ahmed, an analyst, argues that if the government fails to discipline their government forces, then it may lose the support of the people, as when Abdulahi Yusuf Ahmed lost influence after his forces looted the Bakara Market.
In recent days, men disguised as government forces have committed killings and lootings in the displaced camps causing outcry from thousands of displaced persons.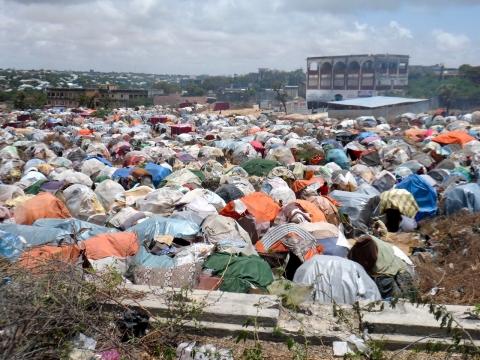 "We continue to suffer from disease and lack of food. We continue to live in fear due to the fighting, children die in the rain and cold, and we call for immediate assistance from the well-wishers," Laila Yunis, a displaced mother of nine, told Somalia Report.
In early November, Somali Prime Minister Abdiweli Mohamed Ali visited Badbado, the largest IDP complex in Dharkenley district, southwest of Mogadishu. He promised his administration will assist those in Mogadishu camps. Ali also passed a message of warning to those that loot the aid meant for the IDPs. "Let this be a clear warning to all those that intend to divert or loot the aid meant for these IDPs, they are a poor lot and the Somali government will support them. You are all aware that two district commissioners were arrested and imprisoned to 10 and 15 years respectively," he threatened.
Many IDPs have told Somalia Report that they can't go out at night due to a lack of security, with TFG forces patrolling in the villages and looting.
While the IDPs have been hit hard by the lack of basic amenities like food, shelter and clothing, the ongoing rains have added to their miseries. Rains have caused the spread of cholera and waterborne diseases in the camps. Many children have ended up in hospitals with many others succumbing due to lack of proper healthcare.