UAE Red Crescent Helps Resettle IDPs
Somalia Report Interviews Director Sharif Mohamed Abdalle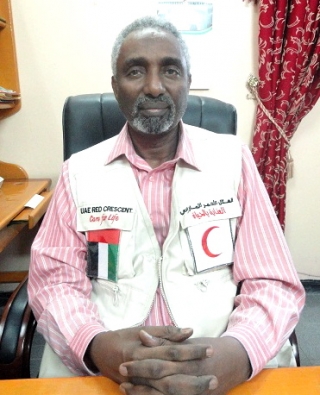 In an effort to highlight non-governmental organizations doing good work in Somalia, Somalia Report interviewed Sharif Mohamed Abdalle, the director of the United Arab Emirates (UAE) Red Crescent, which recently began operations to help re-settle internally displaced people (IDPs) living in the capital of Mogadishu.
How may families has the UAE Red Crescent helped since you started this mission?
Thanks, we have re-settled 466 families, mainly those who were victims of drought. We have plans to help move 4000 families who are in Mogadishu right now.
To what regions are you redeploying the IDPs?
We have redployed and are planning to resettle families back to Middle Shabelle, Lower Shabelle and Bay regions.
What do you give the people so they will go home?
We do not give them more aid because we believe that waiting for aid does not make any sense. We decided to bring the people home so they can start farming again. We did give them three months of food to hold them over as their crops grow and a small amount of cash.
What is the mood of the the people since they returned home?
Every person is very happy to be returning his own home.
The al-Shabaab group has banned 16 aid agencies, including UN agencies, from operating in their areas. How do you see this ban?
We do not like to discuss it, but we are moving forward with our plans.
IDPs Happy for Assistance
Somalia Report also interviewed IDPs recently resettled or waiting to return.
Asha Osman, a 45 year old mother of 6 orphaned children, was very happy to be returning home.
"I was very home sick because I miss my brothers, sisters and friends during the drought time, so I am very happy to go home now," said Asha.
Sahra Abdi, a 55 year old grandmother on the waiting list to be resetlled, also said she is very happy to be going home.