UPDATE
MSF Aid Workers Still Held by Al-Shabaab
MSF Aid Workers Held By Al-Shabaab In Lower Shabelle, One Aid Worker Was Wounded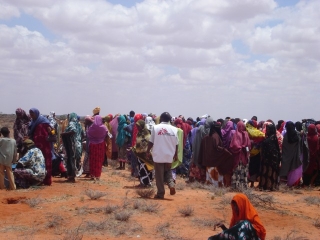 Fighters from al-Shabaab, Somalia's heavily armed militant group, continue to hold two seized female aid workers.
Unconfirmed reports indicated that the two women are from France and Spain, while other sources said that both females were the two foreigners from MSF who were abducted inside refugee camps in Kenya on October 13.
It was believed that the foreigners were trying to escape from the district, but were captured by al-Shabaab.
Recent reports confirmed that the kidnapping of these two women created dispute amongst the al-Shabaab militants. Following discussions, leaders took a decision to hand over the kidnapped women to the chairman of al-Shabaab's Lower Shabelle region, Sheikh Mohamed Abu Abdalla. It is believed the two women are now in his custody.
One of the women was apparently injured in her right shoulder during the kidnapping, and she has reportedly had no treatment as yet. Al-Shabaab controls large parts of Lower Shabelle. In recent months, al-Shabaab kidnapped an elderly French woman, who died in Afgoye due to al-Shabaab withholding her medicine.