Feature
Child Deaths on Increase in Kenyan Refugee Camp
More Than 100 Children Have Died in Past Two Months
During the last two months, at least 130 Somali children have died and more than 250 others hospitalized in the refugee camps near Dadaab, Northeastern Kenya, according to health officials working in the refugee camps.
The vast majority of deaths were caused by infectious diseases in the refugee camps, diseases that are spreading through the refugee camps of northern Kenya.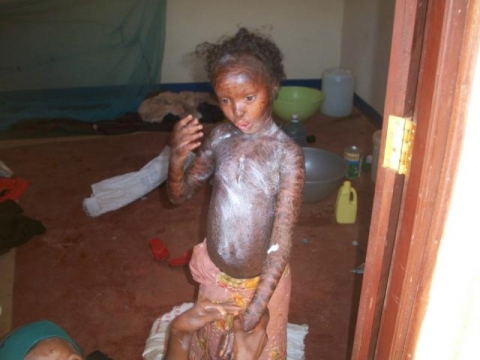 Abdulghani Moalim Abdirahman, a health worker in Hagardere clinic, told Somalia Report that most of the children in the refugee camps are suffering enormous malnutrition and these plights increased the number of children who have been admitted to hospitals in refugee camps.
"More than 85 starving children died in Camp Aws, surrounding Hagerdere refugee camp, others are on the verge of death and they have hospitalized in the IRC centers," Abdulghani said.
He added that the worsening health conditions in the refugee have been deteriorating more rapidly over the past two months; most of the refugees in this new small camp are new arrivals from southern Somalia, a stronghold area for Al-Shabaab militants.
During the last three weeks, more than 40 children have died in Hagardere refugee camp. According to Jawaahir Abdullahi Ahmed, a nurse in Hagardere refugee camp, most of these children were admitted to local hospitals after they were diagnosed with infectious diseases such as cholera, malaria, diarrhea, measles and chicken pox. "Camp clinics are fighting to keep alive famished children," she said.
She warned that a lack of medicine, medical facilities and scarcity of food will result in an increase in deaths.
The three main refugee camps near Dadaab a receive variety of health services as three different health agencies control the clinics in the refugee camps.
The International Rescue Committee serves Hagardere, the largest refugee camp in Dadaab. GIZ from Germany serves the Ifo Refugee camp. The Medicins Sans Frontieres (MSF) agency, which supports most of the clinics in Dagahley camp, had been considered the most trustworthy, although that confidence has fallen since Octobert, when several MSF health workers were abducted from Ifo refugee camp. Their loss is deeply felt by the refugees, who are pleading with MSF to return.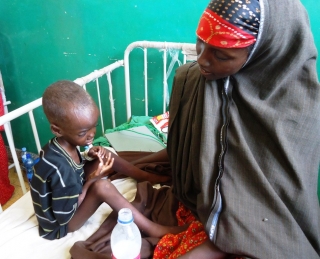 Most of the Somali refugees in Northern Kenya complain of insufficient nutrition. The joint humanitarian agencies of United Nations refugee agency UNHCR and World Food Program (WFP) distribute food every two weeks. A lack of sufficient food has increased the spreading of the infectious diseases between the famished families in the camps, with malnutrition and anemia being common. The following is apportioned for one person, every two weeks, in the Dadaab refugee camps:
2 kilograms of flour
2 kilograms of maize
2 kilograms of porridge
1 kilogram of beans
1 cup of salt
1 glass of cooking oil
The refugee camps near Dadaab, northeast Kenya, host more than 400,000 Somali refugees from drought-stricken regions of southern and central Somali. They are fleeing from famine and harassment from the al-Shabaab militants, who have also banned most international humanitarian agencies.