IDPs in 3 Regions Return Home
UN declares drought over in Bay, Bakool and Lower Shabelle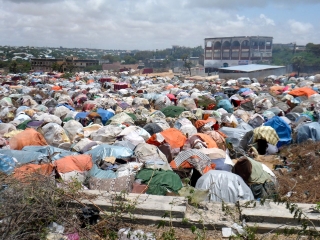 More than 100 families have bid Mogadishu farewell as a part of the ongoing resettlement program initiated by the Somali government and Muslim countries.
Muslim countries including Iran, Turkey and Kuwait are some of the nations that have shipped aid to drought-ravaged Somalia.
Turkish and Iranian aid agencies currently manage many of the camps in the capital Mogadishu as well as offering medical facilities to thousands of internally displaced people (IDP).
Iran Red Crescent on Tuesday began the process of returning the displaced persons to their regions after the United Nations declared three regions southern Somalia regions -- namely Bay, Bakool and Lower Shabelle -- as no longer experiencing famine conditions, as of November 18th.
The head of the resettlement operations in Mogadishu told Somalia Report that they have already initiated the resettlement process and have escorted more than one hundred families from Camp Mashallah, located 30 meters from the Banadir hospital.
"We equipped the returning families' with sufficient aid to last them for more than three months and more people will continue to be resettled in the coming days" Reza Momeni, head of the Iranian Red Crescent, told Somalia Report.
The returning IDP joyfully thanked the international aid agencies for standing beside the IDPs at the time of need.
"We are happy to move back to our farms in Lower Shabelle, rains have come and we are looking forward to a good harvest if the rains will favour us" said Yunis Ali, a lower Shabelle resident.
Amina Hajji, a farmer from Bakool said: "Mogadishu is good but we can never live on humanitarian aid, it's time we go back to our houses and rebuild them and also cultivate our farms."
Mogadishu has witnessed close to one million IDPs who have fled the South and Central regions of Somalia after three years of unsuccessful rains.
Aid agencies came to assist the victims of the Somali drought crisis that has seen millions displaced and thousands others die out of malnutrition and related complications, with the majority of the victims being young children.
Furthermore, the United Nations has reported that famine conditions are likely to persist in the Middle Shabelle region, and among displaced populations in Afgoye and Mogadishu, where humanitarian needs are most pronounced.