Militants Loot 2 Trucks with Kuwait Relief Aid
Local NGO Official Seized Then Released After Elders Negotiate with Al-Shabaab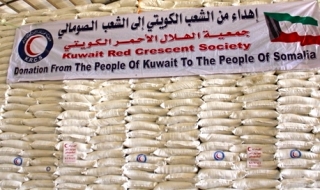 Reports from Merka district in Lower Shabelle region, 90km south of the Somali capital of Mogadishu, indicate that al-Shabaab fighters in the region looted two trucks carrying relief aid meant for internally displaced people (IDPs) in Merka on Friday.
Local residents told Somalia Report that the militants also detained a senior official from a local non-governmental organization, Abdihakin Ma'ow.
"The humanitarian aid stolen by al-Shabaab was from the Kuwait Red Crescent agency and meant for the drought displaced people inside and on the outskirts of Merka. They also detained a Kanava official," one of the aid workers said on the condition of anonymity.
The source also said al-Shabaab robbed the humanitarian aid after the local agency refused to pay cash to the insurgents.
Somalia Report learned that Abdihakin Ma'ow was released after local elders stepped in to negotiate with the insurgents. The relief aid was not returned.
Kuwait has been supporting Somalia's humanitarian efforts to feed and assist internally displaced people throughout the country.