Disabled Somalis Finally Get Relief
Ministry of Sports Establishes Feeding Center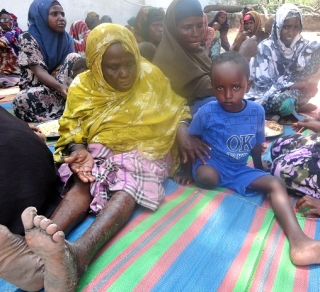 Often unable to walk and treated like beggars, disabled Somalis face more severe living conditions than an average citizen because there is simply nobody or any agency to help them, particularly in the war-ravaged capital of Mogadishu. Today that has changed thanks to the Ministry of Sports, which established a feeding center for disabled people.
Du'ale Hashi, the deputy director of the newly established feeding center, told Somalia Report they provide breakfast and lunch each day to more than 1300 disabled people from Mogadishu's internally displaced camps. According to Du'ale, the center also gives dry food twice a month.
"Turkish aid agencies give us the main support, including the food and the transportation for our employees," deputy director said.
The long-term plan for the center is not only feeding, but to give the disabled people financial support, health care and physical therapy.
Asha Osman, a cook at the center, told Somalia Report they try to make food with both carbohydrates and proteins.
Recipients of the aid were grateful for the assistance.
"We are very happy for this support because we did not know where we would get our daily meal. Today we get it and we can now focus on our future rather than our immediate needs," said Abdi Mohamed Hirsi, 53, as he ate his lunch inside the feeding center.
Amina Mohamed, carrying her 5-year-old who lost his leg in crossfire, said she could not afford a wheelchair and asked for help.
"On behalf of this feeding program towards disabled people there is another group of disabled who did not get any support; those are suffering from their hard life," she said.
Abdulahi Hassan, one of the disabled people at the center, told Somalia Report that people ignore their plight.
"We don't have any rights or help. We don't get health care, education or job opportunities because schools did not respect us as humans. They think of us as beggars," he said. "There are many disabled men who are smart and can work."