Report on Casualties Buried Under Headlines
A Call for Responsibility in Armed Conflict May Not Resonate With Proxies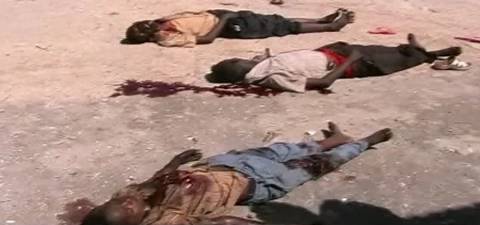 CIVIC (Campaign for Innocent Civilians in Conflict) was created in Iraq by the late
Maria Ruzicka
to encourage US forces to compensate innocent victims of warfare.
Now they have focused their efforts on Somalia. In early and mid 2011, the organization interviewed over one hundred Somali civilians (almost if not all appear to be conducted in Kenya, not Somalia, at the Dadaab refugee camp) as well as discussions with humanitarian agencies, the UN, international donors and African Union (AMISOM) personnel.
As with many western organizations, there is no direct engagement with al-Shabaab, pirates, militias or criminal groups who abuse both Somali and foreign citizens but it is a notable start for the well intentioned group.
It would be helpful if this report had a wider view of the causes (piracy and militias are not even addressed as victimizers), less academic tone (there are 6 pages of Wiki type history) and clearer focus on the actors behind Somalia's two decades of misery. Unlike Marla who visited the homes of victims in Iraq and Afghanistan (and was blown up while driving next to an IED blast in Baghdad), there is a disconnect between the problem and the solution.
AMISOM was famous for its abuse of high explosives and al-Shabaab has taken particular pride in their abuse of civilians but AMISOM is always under-funded and under-gunned. Pirates have made Somalia the kidnap and ransom capital of the world. They are not about to reduce their coffers by paying their victims compensation.
It remains to be seen if the TFG, UN, AMISOM, or Uganda will take any action to compensate civilians based on CIVIC's investigations since the TFG have a hard time paying their own troops. The US military did engage CIVIC in reaching out to victims, but most of those casualties were caused by American actions in covert strikes.
It is still worth noting this report for its intent. Here is the full report and the outline in full
Civilian Harm in Somalia: Creating an Appropriate Response Part of the Civilians in Conflict Series
By Nikolaus Grubeck, CIVIC
November 10, 2011
Executive Summary
Civilian casualties are common in Somalia, the world's most dangerous country.1 Ravaged by two decades of conflict, the current fighting between the Transitional Federal Government (TFG) supported by the African Union Mission in Somalia (AMISOM) and various armed groups (notably al-Shabaab) continues to take a heavy toll on the civilian population.
Between February and July 2011, CIVIC conducted over one hundred interviews with Somali civilians, humanitarian agencies, the UN and international donors and AMISOM personnel. This report also draws heavily on previous original research. The goal was to inform AMISOM's and the other warring parties' response to civilian harm.
This report details the response Somalis want to see when civilians are harmed in conflict. It sets out how traditional dispute resolution mechanisms can inform such responses and makes technical recommendations. We urge AMISOM and its partners to use these findings as a basis for a formal system to address civilian harm. If al-Shabaab does adopt a policy of civilian protection, they too should implement a formal mechanism to track, investigate and respond to civilian casualties they cause.
This report does not focus on accountability for violations of human rights and international humanitarian law. These must remain a separate priority.
No apology or amount of compensation can give back what Somali war victims and their families have lost. But our findings clearly show that an attempt to respond to their suffering in this conflict can mitigate some of the consequences and return a sense of dignity to the victims and their communities.
Civilian harm in southern Somalia
Accurate civilian casualty numbers in Somalia are hard to obtain due to insecurity and limited political will to prioritize tracking. However, on the basis of the available figures, the overall annual civilian death toll is likely to exceed that in Afghanistan.
Civilians are affected by the conflict in several ways. Al-Shabaab has been accused of using civilians as "human shields", of targeting those they suspect of links to AMISOM or the TFG, and, increasingly, of using improvised explosive devises (IEDs) and suicide bombings indiscriminately. Crossfire presents a further hazard for Somalia's civilian population. Frontlines move unpredictably and fighting between warring factions can break out without warning. Reports suggest all sides in Somalia have violated the laws of war by conducting indiscriminate attacks, particularly through the use of indirect fire weapons. AMISOM has recently shown clear improvement in its tactics. These include limiting the collateral impact of artillery, and committing to better civilian protection awareness and policies.
Traditional mechanisms
The report outlines traditional Somali dispute resolution mechanisms and highlights the role they could play in dealing with civilian casualty incidents. Somali respondents widely favored incorporating such traditional responses to harm in any policy operated by warring parties in Somalia.
Xeer: Traditional Somali law, which operates in the context of the clan-system, is one of the defining features of Somali society. It provides for collective compensation (diyya, or blood money) and a reconciliation based structure for the resolution of disputes. This is backed by the threat of the use of direct retaliatory force by the victim's clan in the absence of a settlement. Despite its popularity among Somalis of all walks of life, Xeer, the diyya system and its administration by clan elders was developed for nomadic communities. Clan elders' traditional authority has been gradually eroded. This makes it difficult to apply to a modern urban environment and the context of intensive armed conflict. Nevertheless, given the widespread respect for Xeer, many of its principles could usefully be applied.
Shari'a: Islamic law (shari'a or Xaq in Somali) has been used widely as a means of resolving disputes in Somalia, especially in the absence of any efficient state-run legal system. While there is broad and deeply felt respect for shari'a amongst the Somali population, there are significant disagreements as to its proper interpretation and practical application. In particular, al-Shabaab's enforcement of extreme measures and punishments under the mantle of shari'a is increasingly unpopular with many Somalis. To win popular support, however, any mechanism needs to be compliant with the basic principles of shari'a.
Secular law: Besides the TFG's efforts to develop a formal legal system, other secular dispute resolution mechanisms have sprung up in several areas of Southern Somalia. These often take the form of combined court and police hybrid institutions that apply laws imposed by a local administration—in practice often a combination of traditional law principles, shari'a, old secular laws, and possibly newly invented codes. Such systems remain disparate and have only localized impact.
Somali expectations
CIVIC found that Somalis place importance on both recognition of their losses and tangible assistance. Offers of compensation are appreciated as an expression of regret and acknowledgment of the harm caused. They may also allow a family to pay for medical assistance, rebuild a damaged home, or compensate those who suffer loss of earnings due to injury. Key findings from CIVIC's interviews with Somalis, including several directly affected by civilian casualty incidents, included:
The vast majority would welcome a system to address harm caused by the armed conflict; None recalled any instance in which civilian harm had been fully addressed and most victims had no hope of ever receiving compensation for the harm that they had suffered; Most favored payments to the individuals or families directly affected by an incident. Some, however, thought that compensation should be awarded to communities rather than individuals, for example in the shape of a clinic or school; Those affected by the violence felt that even modest compensation payments accompanied by an apology would be better than nothing. However there was significant disagreement over the amounts that should be paid for various forms of harm; Respondents primarily focused on the responsibilities of AMISOM and the international forces rather than on the TFG or the armed groups. Likely this is due to higher expectations of the capacity and resources of foreign troops; Somalis generally felt that the traditional mechanisms hold important lessons for responding appropriately to civilian harm.
Responding to civilian harm
Minimizing harm to civilians must be the goal for warring parties in southern Somalia. But when harm does occur, those responsible should acknowledge and attempt to mitigate the impact.
Creating a system to address civilian harm will not be easy. Interviewees repeatedly highlighted concerns including fraudulent allegations and the difficulty of proving cases; the problem of handling a potential flood of claims; and concerns that compensation might create economic disparities between victims and the rest of the population. Nonetheless, the vast majority of interviewees agreed that these problems are not insurmountable and even imperfect solutions are preferable to not tackling them at all.
Recommendations
There are concrete, immediate measures all warring parties and civilian stakeholders in Somalia can take to lessen the impact of armed conflict on civilians. First and foremost, all parties to the conflict in Somalia must avoid causing civilian harm. When harm occurs, a system should be in place to track, investigate and properly respond to incidents.
Al-Shabaab's behavior in the conflict, including directly targeting civilians, suggests little interest in addressing the harm it has inflicted. There is now broad agreement among AMISOM and African Union leadership that the mission must aim to minimize civilian casualties and properly respond to the harm it creates. To effectively create the necessary mechanisms, however, will require support in the form of financial assistance and expert human resources. In addition to creating model mechanisms and procedures within international forces in Somalia, these must also be built up within the TFG, which will require intensive support and mentoring.
To All Warring Parties
Immediately cease attacks targeting civilians and humanitarian agencies.
Comply with international humanitarian law, including the principles of proportionality and distinction.
Respond promptly to incidents and allegations of civilian harm. Investigate all relevant incidents, make findings public, and, where appropriate, both acknowledge responsibility and implement strategic and tactical changes to prevent future incidents of the same type.
Provide assistance and compensation to civilians harmed as a result of legitimate combat actions, while acknowledging that such assistance in no way justifies or excuses attacks that target or disproportionately affect civilians.
To AMISOM
Ensure all troops understand the strategic, moral, and legal importance of minimizing and properly addressing civilian harm, including through strong leadership from the Force Commander, contingent commanders, and African Union representatives.
Fully implement the 2011 Indirect Fire (IDF) policy, particularly with regard to exercising extreme caution when deploying indirect fire in response to attacks.
Develop a Civilian Casualty Tracking, Analysis and Response Cell (CCTARC) to: Investigate all incidents of civilian harm; analyze the data for trends; acknowledge responsibility for causing harm where appropriate; in cooperation with AMISOM public affairs, coordinate the public response; participate in a lessons learned feedback chain; and respond appropriately to victims.
Within the CCTARC, develop a mechanism for making amends for civilian harm that references and has due regard for existing traditional Somali reconciliation and dispute resolution mechanisms.
Ensure the CCTARC is accountable and transparent to the African Union, AMISOM leadership, donors and, most importantly, the Somali people, through robust record-keeping capabilities, clear and publicized guidelines, and official oversight.
Equip the CCTARC with sufficient and appropriate resources to effectively carry out its mandate, including: Appropriate staff, drawn from both military and civilian personnel, to include at least one expert with a background in bringing pragmatic solutions to civilian casualty issues, a legal expert, and experts on investigation and data analysis.Ensure sufficient funding to be able to assist victims materially in applicable cases.
Mentor the TFG on the issue of civilian protection and harm, including through the development of appropriate rules of engagement that prioritize accountability and minimizing civilian casualties.
To the African Union
Create a funding stream to allow AMISOM to set up a fully effective CCTARC and ensure funds for making amends for harm caused to Somali civilians by AMISOM combat operations. Ensure all troops deployed to Somalia are appropriately trained on IHL as well as inculcated with a mindset of civilian protection, restrictive combat behavior, and appropriate response to civilian harm allegations or incidents. Prioritize the issues of civilian protection and properly addressing harm in interactions with the TFG, including in support of the TFG's national security strategy and development of rules of engagement.
To the UN and international donors
Make civilian protection and mitigation of civilian harm a priority in all engagements with warring parties in Somalia.
Encourage all warring parties to abide by international laws and, where appropriate, to provide amends to recognize and assist civilians harmed in combat operations.
Provide material support to the African Union in supporting AMISOM to create a CCTARC as well as a harm-response fund and ensure these are effective and transparent in their operations.
Provide material support for training both incoming and in-theater AMISOM troops as well as TFG troops on IHL, appropriate responses to civilian harm and best practices in the Somalia context.
In all activities under the SC's renewal of AMISOM's mandate requesting UN technical and expert advice, the United Nations agencies should prioritize issues of civilian protection and addressing any civilian losses through tangible amends in their assistance to AMISOM.
1 Out of 153 countries surveyed by the Global Peace Index. Global Peace Index 2011, INSTITUTE FOR ECONOMICS AND PEACE. available at http://www.visionofhumanity.org/wp-content/uploads/2011/05/2011-GPI-Results-Report-Final.pdf (last visited Jul. 27, 2011).