Famine Conditions Ease in Somalia
Aid Agency Warns Conflict Could Ruin Gains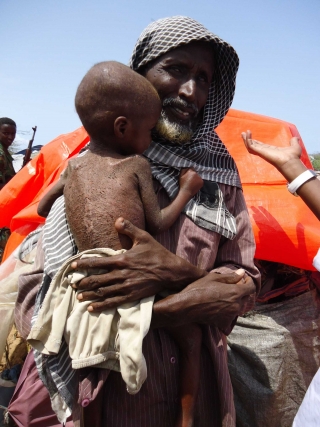 Famine conditions are to persist in three areas of southern Somalia, but the situation has improved in other areas due to "substantial humanitarian assistance", the United Nation's Food Security and Nutrition Analysis Unit – Somalia said Friday.
However, a major aid agency warned an increase in fighting could destroy these gains.
Middle Shabelle, Afgoye and Mogadishu's IDP population will still face famine conditions, but Bay, Bakool and Lower Shabelle have all been downgraded to emergency status. However, 250,000 people continue to face imminent starvation and Global Acute Malnutrition remains high in many regions. Tens of thousands of people have died since April and deaths are likely to continue over the coming months, FSNAU said.
What is yet unclear is how much impact the conflict will have on the situation now that Kenya has entered the mix. So far, Kenya's actions have been limited by bad weather, but they plan to push on to Kismayo and tackle al-Shabaab in its stronghold.
Aid agencies are already struggling to provide assistance, international NGO Oxfam said Friday.
Aid to 27,000 people in Lower and Middle Juba has been suspended since conflict escalated a month ago – when Kenya sent in its forces – and another 58,000 have been affected as plans to deliver seeds and tools to take advantage of the rains have been affected, Oxfam said. The agency said its partners have warned many people are planning to flee towns. Many residents are terrified of being caught in the crossfire as Kenyan and pro-government forces prepare to advance across the country.
"While life-saving water is still being provided in most areas, we have been forced to suspend some work, such as the digging of new wells," Senait Gebregziabher, Oxfam Country Director for Somalia, said in a statement. "Distributions of seeds, tools and cash to communities have been delayed, which are vital for a successful harvest in January. Insecurity is also preventing some farmers from working their fields during the current planting season."
Oxfam said the improvement in famine conditions showed it was time to accelerate the response.
"When drought and famine made headline news, the international community responded generously with support," Gebregziabher said. "Now the conflict threatens to jeopardize the very relief efforts they're funding. The international community must not give with one hand and then take with the other by ignoring the needs of Somali people who are struggling in the face of a famine."
The UN Children's Fund (UNICEF) also cautioned against getting too carried away by the down-scaling of the crisis in some areas, saying 4 million people were still in need of assistance.
"Let's make no mistake about this ongoing situation, children's lives are still in imminent danger," said UNICEF's Representative to Somalia, Sikander Khan. "The combination of malnutrition, killer diseases and escalating conflict continues to make it a matter of life and death for tens of thousands of children with no respite for them for the majority of 2012."
UNICEF said large-scale disease outbreaks are likely to peak during and immediately after the current rainy season, and the long hungry season from March to July would continue to make children vulnerable.