UNICEF Concerned Over Somali Child Deaths
24 Killed Since October, Others Injured, Raped and Recruited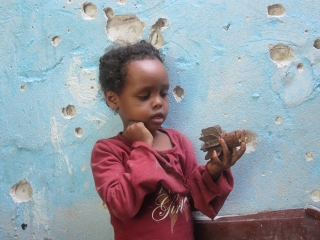 The UN Children's Fund on Tuesday said it was extremely concerned over the plight of children in Somalia amid increased fighting, saying 24 had been killed and 58 seriously injured in crossfire since October.
"Increasing numbers of children and civilians are being caught in attacks and cross-fire across the south and center of Somalia" UNICEF's Representative to Somalia, Sikander Khan, said in a statement. "Over the last several weeks, we have seen a very worrying rise in killings and serious injuries of children."
"Somali children's lives are being put more and more in grave danger with the increasing conflict," Khan added. "In accordance with international law, we call on all parties to the conflict in Somalia to stop all killing, maiming, recruitment for armed services and rape of children."
The number of 24 children killed is double the number reported in every other month this year. In 2011, the UN has recorded over 100 children killed and almost 300 injured.
"While we have confirmed these numbers of children to have already been killed and seriously injured it is likely that the scale is much greater with many more killings and injuries of children either unconfirmed or unreported," Khan said.
UNICEF also said that over 600 children had been recruited to fight and more than 200, the majority of them girls, had been raped. There is also concern that increasing violence is threatening humanitarian aid deliveries.
Fighting has spiked in recent months as the African Union peacekeeping force, known as AMISOM, and government forces attempt to remove the remnants of al-Shabaab from Mogadishu. Kenyan troops have also entered the fray in an attempt to secure its border regions, carrying out air strikes against al-Shabaab targets and pushing its forces toward the insurgent stronghold of Kismayo.