Ahlu Sunnah Calls for More Aid
Gedo Region Neglected, Says Group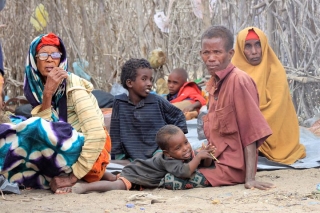 Pro-government Islamist militia Ahlu Sunnah wal Jamaa (ASWJ) has accused the UN and the Transitional Federal Government (TFG) of failing to bring in enough humanitarian aid to southern Somalia, particularly Gedo region.
The spokesman of ASWJ in southern regions, Sheikh Mohamed Hussein Al-Qaadi, told Somalia Report there were major humanitarian issues and people were dying in large numbers from disease and other hunger-related causes.
"In the last three days, 35 people died in the countryside of Gedo," he said. "22 of them were children."
Al-Qaadi said he had asked the TFG's health ministry to investigate a mysterious disease that was spreading amongst the population, and called for more aid to be delivered.
"We sent requests to the aid agencies of the United Nations and the TFG, but we never saw anyone responding to our plea except the United Nations Children's Fund (UNICEF) which brought three airplane of food to Garbaharey three months ago," he said. "We are kindly again urging the aid agencies and the TFG to immediately help people, who are dying every day."
Al-Qaadi said the TFG was focusing only on Mogadishu, and called on the government to remember they were governing the whole nation. He also promised to protect aid deliveries in an area that is viewed as extremely insecure due to al-Shabaab activity and the incursion of Kenyan troops.
The UN Office for the Coordination of Humanitarian Affairs, in its most-recent fact sheet on Gedo, said 47% of the estimated 328,000 residents in Gedo were facing famine or humanitarian emergency conditions. OCHA said 78,000 residents received support in July and August, although it said operations needed to be scaled up outside of urban areas.
The latest map for Gedo showing humanitarian interventions reveals just how limited programs are.