Exclusive
Kenya Modified Invasion to Suit US Concerns
Diplo Cable Lays Out How Kenya Failed to Get Full Support for Jubaland Offensive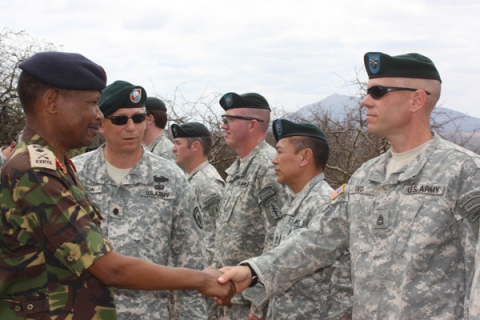 On January 30, a post conference meeting was held after the 2010 Addis Ababa African Union Summit. It was a high level meeting between Kenyan Foreign Minister Wetangula and US Assistant Secretary for African Affairs Johnnie Carson. The goal? To get US government support for Kenya's Jubaland invasion. A classified diplomatic cable leaked by Wikileaks lays out one of the meetings held to get US support for a covert invasion and then subsequent Kenyan controlled proxy government in a region called Jubaland.
Jubaland is the southernmost tip of Somalia that borders Kenya with Kismayo as its commercial center. The region was ruled by a series of sultans until it became part of the British East Africa colony. When the Italians joined the Allies in World War I, Jubaland was handed over to the Italians as payment. In 1960 Somali became independent and the area was resettled by drought stricken residents of central Somalia. The region's linkage to the British historical holdings and the clan affiliation of Northern Kenyan Somali's give it a natural linkage to Kenya.
The region is a center for al-Shabaab, the Islamic insurgent group battling for control of Somalia, and is a major transit point for Somalis who enter Kenya. Kenya has long struggled with the influx of Somalis and the security risk that comes with the influx of refugees.
The Jubaland Invasion was to be spearheaded by the two thousand or so Somalis recruited from local refugee camps and trained in Kenya and backed by the Kenyan military.
It was the third time the Kenyans had tried to enlist direct support and and they best they would walk away with from this meeting was tacit but cautious support. The Kenyans assured Carson that the Ethiopians, the TFG and the US agenda would all be respected. The U.S. was a major proponent of the arming, equipping and training of the Kenyan military ever since the 1998 embassy bombings. Nairobi was a major intel hub for the U.S. and the English speaking environment and access to Somali diaspora made it a perfect planning and mission launching spot.
Despite being receptive, Carson turned down Kenyan's request for direct support. His logic was that if the project failed it would spur clans to unite with al-Shabaab against Kenya and its proxies. If it succeeded Jubaland would compete with the US supported TFG in Mogadishu. A lose/lose proposition. Kenyan Foreign Minister Wetangula was hoping that the American style presidential system Kenya created for Jubaland, complete with the politically correct idea of 47 parliamentary seats and 12 more seats for members of "vulnerable groups" would win the US over. It didn't. Wetangula told Carson that the TFG had endorsed the idea as well as Ethiopia.
Carson then specifically laid out his concerns:
– the undertaking could be more complicated and much more expensive than the Kenyan's forecast.

– an incursion could trigger clan and sub-clan rivalries that could worsen matters in Lower Juba.

– if successful, a Lower Juba entity could emerge as a rival to the TFG.

– it was possible that Kenya could be unwittingly providing training to present or future members of the ONLF.

– did Kenya have a plan should their troops be defeated?

– was Kenya willing to persevere if their was a negative outcome?

– what would be the domestic repercussions of a defeat?

– what would be the Kenya's response if the TFG or if Ethiopia had a change of heart?
Carson then suggested that rather than create Jubaland perhaps there could be more "conventional and convenient" strategy to accomplish the same results. For example...Could the trained Somalis help Kenya to re-take Kismayo? This is the same strategy we are seeing today and the questions are just as valid today as they were in late 2010. NSC Senior Director for African Affairs Michelle Gavin expressed America's willingness to think through other strategies with the Kenyan government.
In addition to Assistant Secretary for African Affairs Johnnie Carson, NSC Senior Director for African Affairs Michelle Gavin and Michael Battle, Ambassador to the African Union, John Yates, Charge d'Affaires of the Addis Ababa Embassy Bob Patterson, Counselor for Somalia Affairs Embassy Nairobi, and Joel Maybury, US Mission to the African Union were in attendance. It is clear that protecting America's covert support of Ethiopia's reentry into Somalia on the heels of ASWJ was also important. The plan from an untested Kenyan military seemed too optimistic and confident. The 2006/2007 Ethiopian foray with direct U.S. Special Operations had spawned multiple "lessons learned" and al Shabaab. One of them was no foreign boots on the ground. The primarily Ogadani version and half hearted Somali conscripts were no where near as battle hardened as the Ethiopian version. American advisors had also seen first hand the military skills of the untested Kenyan military.
Chief of the Armed Forces General Staff General Kianga and National Security and Intelligence Service Director Major-General Gichangi both made their pitches. At the time Wetangula admitted that the idea was risky but insisted that this would appear to be a TFG initiative with "not one Kenyan boot on the ground" in Somalia. The secret Kenyan plan also included administrators, teachers, and nurses trained by Kenya to work inside Jubaland. Carson concluded, "I would be wrong if I suggested encouragement". He promised to consult further in Washington, however. Wetangula concluded by imploring Carson to consider assistance. "I may not have been as convincing as I should have been," Wetangula commented at the end, but "the threat is real."
After a strong plea by Wetangula, Carson was only able to suggest that he would look into the feasibility of a US team going to Kenya to review the technical details of the plan.
It appears that based on the details of the post AU meetings and the current invasion plan with its thousands of Kenyan boots on the ground, that not only did the U.S. review the plan but American and Ethiopian concerns were taken into consideration.
During the January meeting, Carson said he maintained deep reservations about the success of Kenya's efforts. Ethiopia has not supported the training of Ogaden tribesman and the selection of "Ghandi" as the political leader led to concerns that Jubaland might be a haven for Ogaden liberation support.
The main American focus in Somalia and Kenya is the elimination of al Qaeda and al-Shabaab which controls the port of Kismayo and airfields in the region. An active campaign of infiltration, intelligence gathering, drone monitoring and air strikes have been active since the spring of 2011.
The presence of Kenya's military and their hired militias along with the Kenyan air force and Navy in Somalia would require complex de-confliction efforts, close air support control and ideally intelligence sharing between the US, Ethiopian, French and Kenyan forces to a common purpose. Currently Ethiopian and Kenyan troops (along with Ugandan, Burundian, Sierra Leone and Djiboutian troops) are supposed to be engaged in combat operations inside Somalia while the U.S and French provide air and naval assets provide a certain degree of logistics, support and intelligence. Based on the lack luster targeting success by the Kenyan airforce it would be doubtful that there foreign advisors calling in close air support, providing command and control on the ground, or assisting through forward observation. It had taken years for the U.S. to create the Bancroft program in Mogadishu to provide foreign military advisors and even longer to get results. There ideally would also be an agressive program of electronic monitoring before and foreign site exploitation from U.S. ships and French intel after targets were hit. In most cases those men would be Algerian, Somali or ethnically similar nationalities employed by the DSFG,CIA or Special Operations.
The Kenyan foray appears to have been heavily modified from the original plan because the rough and tumble Kenyan trainees simply didn't work out so the battle hardened Ras Kamboni Brigade was brought in. Then the inclusion of Kenyan ground troops, air force and Navy in full flag flying mode lent an aura of national provenance. Then the pretense of kidnapped tourists provided suitable moral motivation. The interesting addition of the Ras Kamboni Brigade led by General Madobe taking the lead in capturing what would have been the back door for al-Shabaab. This has diverted much of the attention away from the "government in a box" prepared by Kenya and may lead to an "Azanian -TFG centric version, complete with AMISOM peacekeepers backstopped by Kenya counterparts.
Although the Kenyan's attacked with bluster and meeting little to no resistance they literally were bogged down in the mud. After the Kenyans gunned down Kenyans in a fishing skiff it appears their media approach was also reshaped to match the traditional US "hearts and minds" style of information operations. Much of the invasion has a very American shape and feel to it.
Ethiopia is also watching Kenya carefully copy its U.S. shaped approach and may choose to re-energize its stalled ASWJ militia and carve out a region to control via a proxy government. Ethiopia began its proxy campaign in February of 2010 by getting the US to pay at least $150,000 in short term financing to get the political deal done with the TFG leadership and then another $5 million to support the invasion phase. ASWJ has been successful in rooting out al-Shabaab in their border areas but is divided between the fighters on the ground and the deal makers higher up. It should be remembered that the leader of ASWJ said they were planning to capture the port of Merka next to be followed by El Bur and Dusa Mareb. A lot of threats and flag waving are becoming hallmarks of foreign troops inside Somalia. Even AMISOM has characterized their flow into abandoned al Shabaab spaces in Mogadishu as a military campaign.
"Taking the port would not be too difficult once ASWJ had sufficient weapons and ammunition," he is quoted in a leaked memo saying, adding that the El Bur airstrip was used by Eritrea to fly weapons to the extremists and that it must be stopped. ASWJ was also preparing to expel al-Shabaab from Dusa Mareb. Mahdi emphasized that the backbone of the Wahhabi extremists was in Galguduud, and therefore,they must be defeated there first. ASWJ is stalled and their political view that "Sheikh Sharif is little different than Shabaab" still holds true.
It appears they are now effectively carving former Somalia into Somaliland, Puntland, Galmadug, Mogadishu and Jubaland - each quasi autonomous area would have its sponsoring nation/partners contributing the muscle to tamp down al-Shabaab. Although the US embassy maintains its surprise at the invasion and there has been an effort to pretend that Kenyan forces are not coordinating with US and French air and naval assets, it appears that the Jubaland initiative is one of the worst kept secrets in Somalia.