4 Killed at Mogadishu IDP Camp
In-fighting Breaks Out Between Government Soldiers at Badbaado IDP Camp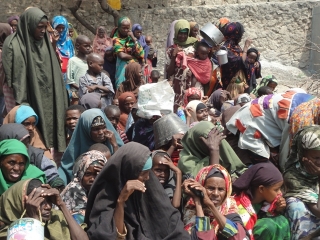 At least four people were killed and ten others wounded in the Badbaado IDP camp in Mogadishu after in-fighting broke out between government forces on Saturday, according to witnesses.
"The fighting started during the food aid distribution. The wounded people were taken to Madina hospital," Halima Abdi, an IDP in the camp told Somalia Report.
The reason for the conflict was unknown, but some of residents in Dharkenley said government soldiers and freelance militias in the area were looting the aid and diverting it from the IDPs.
"Government soldiers opened fire after a conflict broke out between them while people were waiting for humanitarian aid in Badbaado camp in Dharkenley district," said Ahmed Gulaid, a local resident.
African Union Peacekeeping forces (known as AMISOM) arrived at the scene to restore security and try resolving the problem.
Government officials claimed only two died in the shooting.
It is not the first time that government soldiers have fought in the IDP camps, particularly since they have not been paid in at least four months making looting a growing problem in the capital.
On Friday government soldiers fired on IDPs in an IDP camp in Karan district of Mogadishu killing at least three people and on Thursday the soldiers were accused of killing IDPs in Huriwaa district.
Senior Intelligence Officer Killed
Meanwhile, Abdullahi Olad Farabadan, a senior intelligence officer was shot and killed in Mogadishu on late Friday.
"The official has been shot dead in his home in Hodan by another government soldier," Abdikadir Farah, government security official told Somalia Report.
"The reason is not known but the deceased official was known to be energetic," he added.