UPDATE
Conflict in Rush for Aid in Mogadishu
Witnesses Say TFG Soldiers Killed 5, Government Denies Claim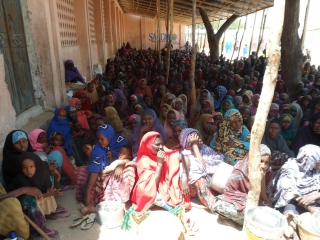 Witnesses claimed five civilians were killed and more than four others injured in the Karan district of Mogadishu Friday after government soldiers allegedly opened fire on a crowd which surged forward to grab humanitarian aid being delivered, but government officials denied the accusations.
"The residents who were supposed to receive food started to loot and take the food forcefully because there were a lot of people there," witness Asho Anab told Somalia Report.
Witnesses said troops then used fired on the crowd in an attempt to control the mass of hungry internally displaced people.
Abdihakim Guled, the Somali National Disaster Management Agency Deputy Chairman, denied the accusations.
''No one was killed in the incident, but confirmed reports indicate that two people sustained injuries. There have been misleading information regarding the incident but nobody lost their life," he told Somalia Report.
''Investigations are ongoing in a bid to pin down the perpetrators and we commend the police forces for the reducing the theft of food aid and looting,'' added Abdihakim.
African Union peacekeeping spokesman Paddy Ankunda also denied AMISOM soldiers were responsible and said it was al-Shabaab propaganda.
"No AMISOM soldiers were responsible for the reported deaths or injuries on civilians in Mogadishu's Karan district. If it were to be true someone would have been under investigation by now," the spokesman told Somalia Report.
"Our troops came in to calm the situation after the shooting started and were not there when it began," he added.
Somalia Report is making efforts to contact officials at Somalia's National Disaster Agency, which is responsible for managing aid in Mogadishu's IDPs camps.
Reliable information obtained by the Somalia Report also indicates that some of the residents in Karan who are not IDPs tried to receive free food without ration cards.