UK OK's Armed Security On Ships
Edict Affects 200 of Worlds' 50,000 Plus Sailing Vessels
British Prime Minister David Cameron has taken definitive steps to increase security on UK commercial ships
after talks in Australia with Commonwealth leaders. The 1982 United Nations Convention on the Law of the Sea makes every vessel subject to the jurisdiction of the country whose flag it flies. Each country has various rules regarding the use of armed guards but this move to allow armed guards on UK flagged ships is seen more as a way to endorse the idea of armed security guards rather than provide any measurable security effect.
This is also a boost for UK insurance providers, many who insist on armed guards, as well as providers of armed security for maritime are from the UK.
Unfortunately this decision would benefit only 200 ships currently sailing under the Union Jack. According to MARISEC figures as of October 2010 the world's maritime fleet of 50,054 is made up of:
16,224 General Cargo Ships 13,175 Tankers

8,687 Bulk Carriers

6,597 Passenger ships

4,831 Container ships
MARISEC also lists the fleet sorted by flag: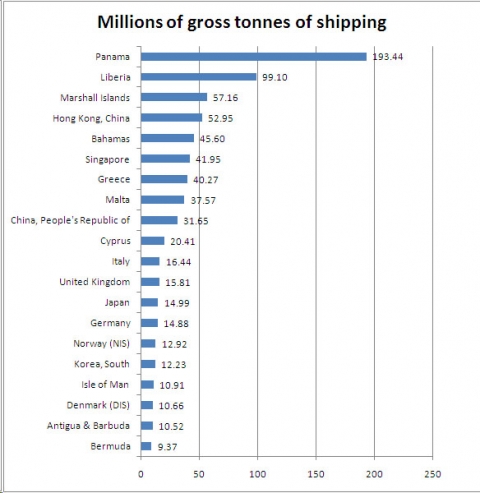 Sailors from the UK make also make up a small percentage of mariners affected by piracy.
So although the use of armed security contractors would only be for insurance "exclusion" zones it signals a move towards endorsing the new boom in armed private security on ships. Something the maritime industry is on record as being uncomfortable with. It is their opinion that it is the responsibility of the world navies to allow clear passage in international waters. They also have stated in public forums that having weapons on board may lead to loss of life to crew or increased damage to ship and cargo. Conversely the private security industry maintains that no ship with armed security has been hijacked. This claim has been bolstered by a recent Navy statement that 90% of pirate attacks were deterred by armed security on board the ship.