45 Trucks Stranded by Floods, Fighting
Trucks Carrying Desperately Needed Food Stuck for 8 Days Forcing Up Food Prices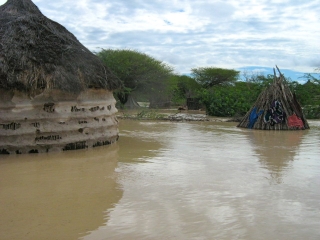 More than 45 trucks loaded with food and en-route to Somalia's southern regions of Bay, Gedo and Lower Juba were reportedly stranded by floods caused by weeks of rain and fighting between insurgents and government forces.
"We saw 29 heavy commercial trucks loaded with sugar, rice, floor and oil stopped by the floods in Qansaxdhere in Bay and Lower Juba Regions," witnesses said.
Trucks drivers Ali Jamac Gagale, Abdi Alasow, Mohamed Tagane, and Moumin Tohow told Somalia Report that the floods affected the already rough roads and they had difficulty in reaching other towns quickly.
"We stayed here in this forest area between Gedo and Bay for eight days. There are 21 trucks here but we are not doing well. Some of us have fevers and we are afraid of the wild animals that roam around such as lions and hyenas. We hear them all day and night," said one of the drivers.
Meanwhile 26 other trucks and mini buses were also stopped by the floods in Diinsoor, Luq, Ceel-waq and Bald-hawa, residents told Somalia Report.
They added that because the trucks are stranded, the prices of commodities are the highest they have been in three months.
Mini buses drivers in Elasha Biyaha and Dhobley also stopped working after al-Shabaab fighters suspected them of spying in the Lower and middle Juba Regions.
Sacid Abdi, a mini bus driver, told Somalia Report that he was forced to stay at a checkpoint for two days after al-Shabaab repeatedly interrogated him about where he was from and where he was going.
"I am the only person in my family of 12 that works. I can't work if there is fighting," Sacid said.
Jamal Warsame, a mini bus driver in Dhobley, told Somalia Report that drivers in Dhobley did not work for six days because of battle going on in the regions.
"I was compelled to stay at home because I couldn't work," he complained.
Heavy rains fell in drought-affected parts of the country and are due to continue for several more days.