Vaccination Campaign Begins in Mogadishu
765,000 Kids to be Vaccinated Against Measles and Polio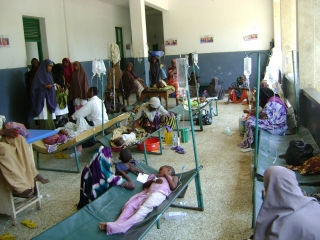 A large scale health drive to vaccinate children under the age of 15 against polio and measles started in the Somali capital Mogadishu on Wednesday.
The campaign, jointly conducted by the Somali health ministry, UNICEF and World Health Organization (WHO), aims to reach 765,000 Somali children who live in the capital.
Dr Awil Haji Ali, a health and nutrition expert with UNICEF, told Somalia Report the campaign has been divided into two phases with the aim to reach children in all 16 districts of Mogadishu.
"We are going to vaccinate 765,000 children against polio and measles," he said. "We are also providing children with deworming tablets as well as vitamin A to protect their eyes from measles complications."
He said that 350 cases of measles have reported among children in Mogadishu last week, but there have not been any reported cases of polio.
The second phase of the campaign, due to last for three days, will commence on November 1.
Fatima Hassan, a mother of three, told Somalia Report that she has decided to vaccinate her children after witnessing the death measles and polio caused among her neighbors.
"I vaccinated my children after I saw that many of my neighbors lost their children to measles," she said.