40,000 Kids are Orphans in Puntland, Says PASWE
Only 2,200 Orphans Getting Help While 37,800 Others Suffer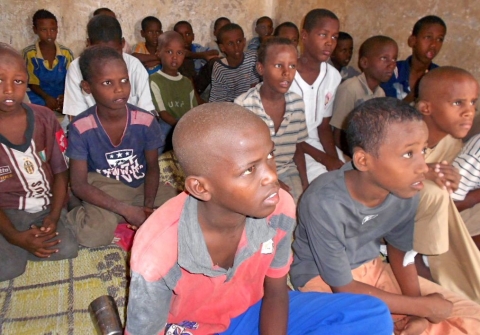 While the world focuses on Kenya's incursion into southern Somalia and the fight against al-Shabaab militants, tens of thousands orphans are suffering from lack of food, guidance, healthcare, education, and shelter in Somalia's semi-autonomous region of Puntland.
Of the approximately 40,000 orphans in Puntland, only 2,200 are getting help from one of ten orphan centers scattered across the region, according to Puntland Agency for Social welfare (PASWE).
The remaining 37,800 orphans are living without food, health, or education, PASWE Director General Abdi Shakur Mohamud Gurey, told Somalia Report.
"40,000 orphans are living in all regions of Puntland including those who are internally displaced people. They are typically between the ages of 6-10 but some are over 16. During our study we found that only 2,200 orphans were getting help and that is because they are living at one of ten orphan centers in Puntland," explained the director.
The six main centers are located in Galkayo, Garowe, Baran, Qardo, Galdogob and Bursalah with the other four scattered throughout the region.
"Somali Diaspora and organizations from Saudi Arabia and Kuwait are financially supporting the ten centers and we appreciate that. Sometimes they also get support from Puntland's Minister for Health but it is not enough," he said.
Every year 35 orphans complete their education at the centers and are sent onto secondary schools.
"We are now planned to build a new orphan center in Carmo district of Bari region because there is no orphan center in Bosaso. We know that thousands orphans are living in Bosaso and need help," said Abdi Shakur Mohamud Gurey.
PASWE and UNICEF, which funded the project, are in the process of creating a plan to help the remaining 37,200 orphans, explained the director.
PAWSE was founded as a government institution in May 2009 and is based in Garowe and is dedicated dedicated to supporting vulnerable people including orphans, disabled people, and street children.
Street Kids Get Training
Meanwhile at least 350 street children including those who dropped out their basic education (primary) will receive training in a variety of skills from UNICEF, UNDP, and ILO Agencies.
''This program for street children began today in Bosaso and is funded by UNICEF, UNDP and ILO agencies. This will provide them with knowledge, personal development and moral support so they can get ahead in life and even just survive. We hope this decreases the number of street children in Puntland,'' Abdiqadir Ahmed Harago, a traditional leader from Bari region told Somalia Report.
Sheikh Mohamud, a well-known Sheikh, said these children need special care to help them physically and morally and he thanked all those who have helped.