The Complex Task of Feeding Somalia's IDPs
A Profile of SAACID's Efforts in Mogadishu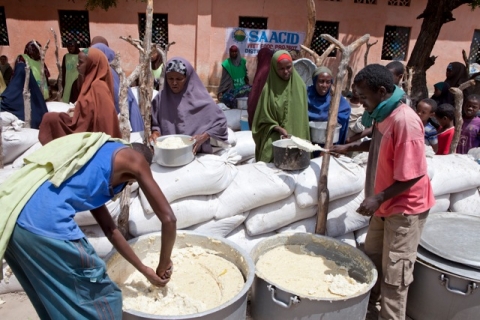 It is one thing to get hundreds of tons of raw food past pirates, predatory port guards and roadblocks, but it is another thing to actually turn that bulk warehoused food into something starving and destitute Somali can eat every day. To do this while braving the erratic conditions of Mogadishu and the ever-growing refugee influx requires a team of highly skilled, savvy and patient operators.
As part of Somalia Report's efforts to highlight aid organizations 'doing good' in Somalia, we spent the day with SAACID, a Mogadishu-based non-governmental organization (NGO), which provides 80,000 hot meals every day for internally displaced persons (IDPs) and urban poor at 16 sites across the capital.
To learn the logistics and coordination required to help drought, famine and war displaced people with compassion and military-like precision, SAACID invited Somalia Report to tour, with full access, five of their sites in the capital, including the milling operation, a wet-food project, a nutritional feeding program at an IDP camp, warehouses, and a vocational training center.
About SAACID
Founded in October 1990, SAACID (say-eed - Somali, meaning 'to help') is an indigenous Somali, not-for-profit, non-religious, non-political NGO that provides food, immunizations, nutritional centers, vocational training, and education to Somali citizens.
"SAACID is the oldest and largest continuously operating Somali NGO," says Tony Burns, the Director of Operations for SAACID. "SAACID has sister organizations in Australia and the US. We currently work in seven sectors: Women's Empowerment; Education; Health, Nutrition, Water and Sanitation; Development and Livelihoods; Conflict Resolution and Governance; Emergency Relief; and, Research."
In addition to providing aid, SAACID has also created employment for more than 2,560 people, including 264 long-term staff.
For the wet food kitchen program, SAACID works closely with the United Nations' World Food Programme (WFP) which provides the majority of the food distributed, as well as the Danish Refugee Council, (DRC) European Union (EU), the Swedish Government and Danish Government that pay for the locally purchased food as well as the salaries of staff members.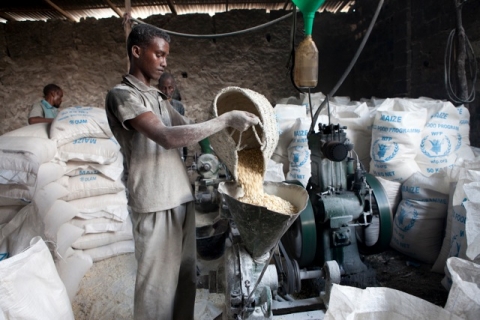 Milling Site
SAACID's milling site, located near the K4 intersection, is a flurry of activity with trucks of maize from Mombasa being unloaded by private contractors and then sent into the warehouse or taken to the milling area where it is ground to remove the husk, and provide a fine consistent powder for cooking.
After grinding, the maize is taken directly next door, where 120 women, sitting on the floor side-by-side sift through the maize to remove any remaining husks. A think blanket of dust fills the room and each woman is covered in dust. Some complain of allergies, but most are just relieved to be employed in a city that has been at war for over two decades.
"I am so happy to have this job. This is my greatest dream so I can pay for at least two of my children to go to school," said Fatima Mohamud Mohamed, a 40-year-old mother of nine children.
Her husband, like many men in Mogadishu, is unemployed.
This group of 120 woman, working in two shifts making $80 per month each, along with 24 employees handling the grinding, can process approximately 720 bags per day, six days a week. In one month, they average 18,0000 bags of processed maize.
When Somalia Report attempted to speak with Hussein Moalim Mahdi, a 40 year old porter carrying the bags of processed and unprocessed maize, he stopped briefly and politely explained he had to keep working because he makes $0.10 cents per bag and doesn't get paid if he stops to talk. With six kids and a wife, his desire to move on was understandable.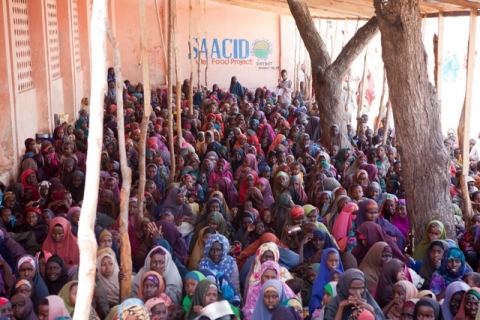 Wet Food Project
Once processed in the milling facility, the maize is taken to a kitchen prep area and finally to the SAACID Wet Food Project in Dharkeynley District, one of sixteen in Mogadishu.
This highly efficient, clean and well-organized operation should serve as a 'how-to' example for other IDP and refugee camp managers.
Providing 80,000 hot meals per day without incident requires a battery of operations to go right, the first of which is how to get everyone safely and efficiently through a food distribution line. To do this, SAACID sets up two rows of sand-filled stacked maize bags, waist high, that begin at an open door, not too far from their open-air kitchens.
Beyond the door, and waiting to be allowed entry to the line, are nearly 2,000 people – averaging 50% women, 45% children and 5% men. All are quietly sitting in an organized fashion, waiting for permission to enter the line.
One woman mentions she has been waiting four hours, as she does each day, to be the first one in line. Everyone is carrying multiple pots and many women have children of various ages hanging around their necks or legs.
Once inside, the IDPs wind their way through the maze of sand-filled maize bags to receive, in today's menu, a banana and lime from two servers. Then the line makes a 90 degree right turn to an 80-foot straight line where IDPs, carrying their own pots, are served maize and vegetable soup from SAACID's staff.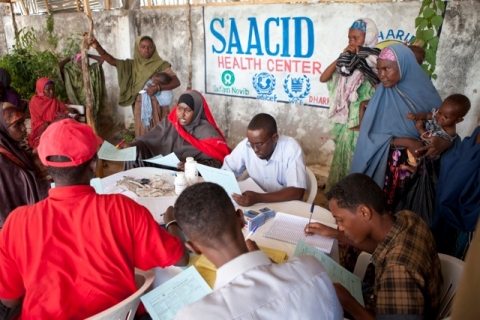 Nutritional Feeding Program at IDP K7 Camp
As the drought ravaged southern Somalia, citizens began a mass exodus to Mogadishu this summer. In an effort to control the influx, the government asked Moahlin Abdulle Ali, the District Commissioner of Dharkinley District, to allow the Transitional Federal Government (TFG) to establish an IDP camp in the area since there was available space on the outskirts of Mogadishu. The area was also sanitary, as it had not yet been taken over by cows and goats that roam the capital.
"The TFG is responsible for our funding. Al-Shabaab isn't as much of a problem these days as bandits and robbers," said the chairman as three guards looked on.
IDP K7 camp opened on July 11, 2011 and SAACID established a specialist nutritional program for children the next day on July 12 within the IDP camp. The camp currently houses 5,000 families, or close to 30,000 people, while the SAACID nutritional program treats approximately 3,000 moderately and severely malnourished children under the age of 5.
Lines of women and their starving children, some in worse condition than others, snake their way through a partially walled off outdoor area, somewhat sheltered from the IDP makeshift homes. A nurse does an initial assessment and sorts the patients to one of two different lines depending on the severity of malnutrition. Many are clutching empty wrappers of Plumpy Nut, a peanut-based nutritional supplement for malnourished kids.
Adan Yusuf Mahdi, SAACID's supervisor and a Community Therapeutic Centers (CTC) Program Manager, explains that the women must prove the nut paste was given to their children and not sold. Without the return of the empty sachets, they cannot receive the next ration allotment for their children. Once the wrappers are returned, they are immediately destroyed so nobody else can re-use them. The kids are also weighed to be sure they are gaining weight. If the children don't gain weight, a further investigation takes place. Either the family are not providing the nutritional supplements to their children (selling them, or eating them because of the famine), or the child has complications, and will be referred to an in-patient Stabilization Center for 24-hour care.
Fatima, a 35-year-old mother holding her baby, Fowziya, says she fled to the camp from Lower Shabelle. She hired a car for $2 to bring her husband and eight kids to the camp.
"I want to tell the world that we lost everything. We had to sell our very last chicken because of the drought. I am thankful that this camp and SAACID are here because we had nowhere else to go," she said.
Fatima Abukara Abid, a 12-year-old girl waiting in line alone, also came from Lower Shabelle, and explains her daily routine.
"I wake up early, wash utensils and clean our home with a broom. Then I wash myself and all the clothes for my family. I am the middle of 8 kids. Every day I get in line at 11am for food for my family, but sometimes I come back empty-handed. I know that here with SAACID I will be helped," says Fatima.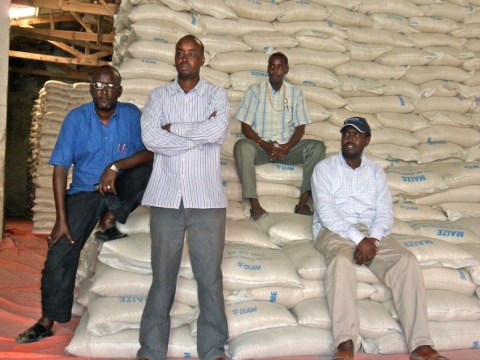 Warehouse
As part of the logistics chain, SAACID rents two massive warehouses, one at the milling operation and one near their main office, where they currently hold a one-month supply of perfectly stacked bags of maize up to 20 feet high, cases upon cases of American supplied cooking oil, and other staples.
In their ongoing quest for accountability (Editor's Note: SAACID officials were accused of diverting aid, but no hard evidence was produced) each stack of maize, oil or beans has been thoroughly checked, counted and recorded on a yellow "Stack Card" hanging at eye-level on the front of each pile. The paper records the number of bags, when they arrived, the origins of the bag, the weight of each bag, and other relevant details.
For this single facility, SAACID pay $3,200 per month in rent.
Other Services
Although Somalia Report did not visit all of their sites, SAACID also operates the CTCs which provide specialist child malnutrition services, vaccination services, and specialist education classes for pregnant and lactating women.
SAACID's current active caseload for malnourished children is more than 31,000, which grew by more than 5,000 active cases in September as the famine deepened. SAACID has successfully treated more than 164,000 children since it began operations.
As if their Wet Food Program (hot kitchens) and CTC programs weren't enough, SAACID has also implemented a leadership management training and public sector rehabilitations in partnership with UN-HABITAT since 2005; maintained a network of fee and non-fee paying primary, secondary and vocational schools since 1996 (supported in part by UNICEF); a resilient micro-credit program for women since 1996; and other large-scale one off programs in solid waste management (ILO and IOM), Demobilization, Disarmament Reintegration of militiamen (DDR) (UNDP) and ongoing research contracts.
More than one person told our correspondent that without SAACID, they'd be dead. And they are probably right.
To learn more about SAACID or to donate, please visit their website.