Rains Destroy 90 Homes in Gedo
No Relief for IDPs in Somalia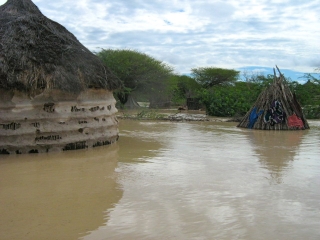 At least ninety homes were destroyed and washed away in parts of Somalia's Gedo region after heavy rains and floods hit in the area.
The governor of Gedo Region, Mohamed Abdi Kalil, told the local media that the rains affected many buildings and business centers, but no casualties have been reported.
Hawa Shire, a resident in Ceel-waq District, told Somalia Report that she was scared to death last night after the floods hit her home.
"I was forced to flee with my two children. The flood took everything from my home," she said.
Internally displaced people (IDPs) who fled the drought to camps in Gedo also lost their homes in the flooding.
A corespondent from Universal TV in Balad-Hawa district, Mohamed Ali, told Somalia Report the rains severely affected IDPs in Balad-hawa. Many lost their makeshift shelters and any remaining items they brought with them as they moved to the camp.
The rains come after thousands of people in the southern regions died in the past few month from malnutrition, most of them children, due to consecutive drought and the ongoing war between the al-shabaab militia and Somalia forces.