Police Order Disaster Staff from IDP Camp
Aid Official Worried About Looting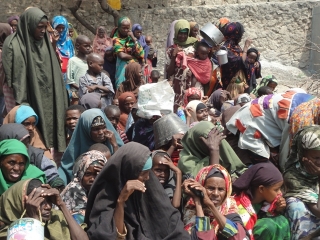 The Chairman of the Somali National Disaster Agency, Abdullahi Mohamed Shirwa, told Somalia Report that police at Mogadishu's Badbaado camp forced the agency's workers to leave.
The organization, which was intended to manage aid for internally displaced people in Mogadishu, was formed by the Somali government.
"We were planning on Sunday to meet there with Turkish and Red Crescent aid officials," he said. "Our workers have been threatened strongly by police and we were forced to leave without being told why."
"There are a lot of aid supplies there, and if it is stolen then the police will take the responsibility for that since they forced our local workers to vacate the area," he added.
On 5 August, 10 IDPs were killed and more 15 others wounded at the Badbaado camp during clashes between two government troops who fought over robbing aid.
The situation of the people at the Badbaado camp is said to be good as several local and international aid organizations have been operating, Shirwa said. However, he said that the aid there was "vulnerable to looters".