Al-Qaeda Distributes Aid to IDPs Near Mogadishu
Al-Qaeda Officially Supports Al-Shabaab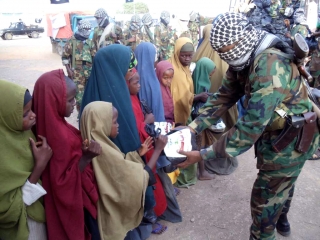 Al-Qaeda has delivered its first aid to Somalia and distributed the supplies to internally displaced people (IDPs) living at IDP Camp KM50 on the outskirts of Mogadishu on Friday.
The donations, included rice, cooking oil, dates, Hijabs, Korans and milk, were distributed to Somalis living in Ala Yasir camp, which is sponsored by al-Shabaab who are battling the government for control of Somalia.
"It has been delivered by our brothers (Al-Qaeda). Al-Qaeda associates support our fight against the infidels and their apostles," Sheikh Ali Mohmoud, spokesman of al-Shabaab told Somalia Report.
"We have also contributed $17,000 in cash and we are ready to continue assisting the drought-stricken people," said the spokesman.
Wearing a mask, Abu Abdalla Al-Muhajir, a man identified as a US citizen, spoke in English during the aid distribution.
"Al-Qaeda is supportive to all Muslims around the world and we hereby share the misery with our brothers suffering from the drought and famine," Abu Abdalla Almuhajir told the IDPs.
Al-Muhajir claimed that he is a delegate and member of the Al-Qaeda group.
"We hope that other Muslims will also assist their fellow brothers suffering in Somalia. We have also donated a fully equipped ambulance for treating the refugees," he said.
Most of al-Shabaab controlled regions have been hit by severe drought although they have restricted certain aid agencies from operating in regions under their control.
Analysts say that Al-Qaeda's donation at KM50 IDP camp came with a political agenda as part of a propaganda campaign to try enhance al-Shabaab's shattered image among the public.
This coincides when al-Shabaab fighters nearly lost its strongholds in the capital and government is now in control as much 90% of Mogadishu.
Al-Shabaab withdrew from the capital in early August after an internal rift broke out among its senior leaders over lifting the ban on aid agencies.