Zanzibar Refugees Call Mogadishu Home
The Small Community Fled to Somalia in 2000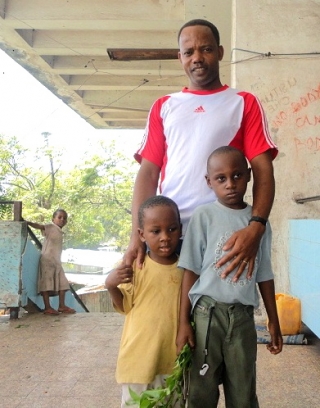 Although Somalia has been embroiled in internal rivalry and conflicts for the last two decades, the war-ravaged Horn of Africa nation continues to host a different kind of refugees from an unlikely world - Zanzibar.
The opposition supporters from the Indian Ocean archipelago, a popular tourist destination, fled to the bullet-ridden Somali capital Mogadishu in 2000 to seek refuge following political disturbances in the beach islands.
Mogadishu is arguably the most dangerous place in the world. But it is currently hosting 65 households of Zanzibar refugees who ran away to escape the political violence back home.
The Zanzibar refugees are based at a building in Mogadishu, which was formerly occupied by the Somali Water Agency.
When Somalia Report visited the compound recently, we met some of the refugees and heard first-hand accounts about the ups and downs of living in Mogadishu.
"We are 65 families and we live inside this building, which used to house the water agency near Benadir junction. We are facing a humanitarian crisis," said Abdirashi Abdalle Sa'id, a spokesman of the Zanzibari refugee community, adding that they have received little support from charitable agencies to cushion themselves from the ravaging drought and famine engulfing the country.
Somalia is facing the worst famine in 60 years. Tens of thousands of people have died, according to the United Nations. Around the Horn of Africa region, over 12 million people are affected by the worsening drought.
According to the spokesman, the Zanzibar refugees have been living in Mogadishu for the last ten years. But following the escalating humanitarian crisis unfolding in the region, life has drastically changed.
"Our daily life is very difficult and we haven't received any aid assistance following the drought. We are asking everyone, including the TFG to help us because we are refugees and we live in Somalia," he pleaded.
The small group of Zanzibaris fled their homeland due to political conflicts, which followed the 2000 general elections. Some say, as supporters of the opposition party, Civic United Front (CUF), they fled to Somalia in fear of being persecuted by the government of the ruling party, (CCM). CUF refused to accept the outcome of the elections citing irregularities.
They first fled to neighboring Kenya, but later made their way to Mogadishu. But Sa'id says they hope to return home one day.
He says the Zanzibar refugees have been co-existed very well with Somalis and some have even intermarried with the locals. We have some of us married to Somali women and have got children," said Sa'id, who has been married to a Somali wife for the last two years.
"In Somalia, I have learned a lot of things, including how to deal with foreign people as a refugee," he said.
Personal Stories
Mohamed Adam Suleyman is 35 years old and he has been staying in Mogadishu for the past 10 years. He is married to a Somali wife and both have two children.
"I am very happy to stay in Somalia as a refugee, because I have some peace of mind here although sometimes some problems do occur," he told Somalia Report.
Abas Sa'id Abdalle is 32 years old and came from Zanzibar to seek refuge in Somalia. He now works as barber and says he has been doing this for the last three years. He earns an average of $5-$6 a day and spends $1.5 for rent each day. He says his savings for the last two years enabled him to marry a Somali wife.
Amina Ma'ow is a 30 year-old Somali woman married to a Zanzibari man. She said, "I love my husband because he is honest. He gives me everything he gets and he also respects my family."
Many of the Zanzibar refugees, mostly Muslims, say they felt at home being in Mogadishu and are now fluent in Somali language in addition to understanding and appreciating the Somali culture.