The Impact of Foreign Aid: Inflation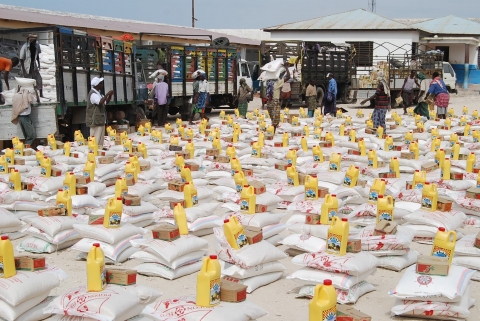 Although foreign aid is meant to ease the suffering of Somalis in drought and famine affected areas, the influx of cash has negatively affected low level income families in the country, particularly in the capital of Mogadishu.
Well-meaning foreign aid groups overloaded the city with cash causing chronic inflation, according to residents and experts.
"The rate of the food has become high since foreign aid agencies arrived in the country. Now we can't afford to manage our lives because everything is now more expensive," said Amina Abdi, a 45-year old Somali mother who lives in Mogadishu.
According to Amina, the expenses of the families doubled because of the inflation.
Professor Abdurahman Guure told Somalia Report that the average expenses of a Somali middle level income family were $100-$150 per month, but has gone up to over $200 per month because of inflation whereby the supply of goods decreases and the demand increases.
Salah Shariif, a financial officer of Ma'in foundation, a local NGO which gets funds from Kuwait, told Somalia Report that the agencies are aware of this inflation resulting from their cash.
"We are planning to change our cash system to food stamps because the cash causes inflation not only for middle and low level income families but also for us since we live the city," Mr. Salah told Somalia Report.
Families flocking to Mogadishu from drought ravaged regions have also taken their toll on local residents.
"The low level income families are suffering from inflation. Their monthly income is not sufficient now because they hosted their relatives fleeing the drought," said Ahmed Abdi, a university student who earning a degree in economics.
Most of the agencies deal with contractors who buy the needed supply. In turn, those contractors routinely sell the goods for a 'made-up' price, according to sources in several aid agencies. For example, if the price of 50kg of rice is $36, the contractors say its $45 and the aid agencies are forced to deal with it as there is no other alternative.
"As we are businessmen we want to deal with cash. We always work in the way that we can easily get cash. We really don't care what the local NGOs and aid agencies need," said Osman Jum'ale.
Mogadishu residents thought the influx of foreign aid would help revive their city, but this has proven not to be the case.
"Previously the people believed the incoming aid groups would not cause inflation. They assumed that the groups would provide life-saving supplies," said Mukhtar Abdi, a Somali economist who lives in Mogadishu.
Somali economists urge aid groups and businessmen to save the lives of low income families who can't afford to buy expensive food.