UN Report Details Somali's Latest Woes
Drought Largest Cause Of Displacement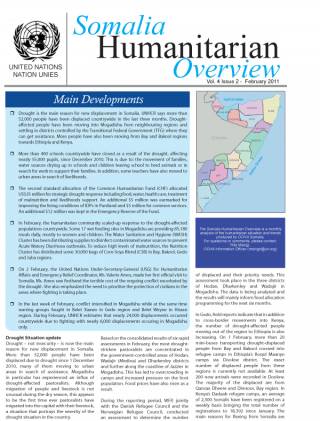 The highlights:
Drought is now the main cause of displacement in Somalia with more than 52,000 people displaced over the last three months. More than 400 schools have closed as a result of the drought, affecting nearly 55,000 students.
The Common Humanitarian Fund (CHF) allocated US$35 million for drought response including food, water, health care, treatment of malnutrition and livelihoods support. An additional $5 million was earmarked for improving the living conditions of IDPs in Puntland and $5 million for common services. An additional $12 million was kept in the Emergency Reserve of the Fund.
In February, 17 wet feeding sites in Mogadishu provided 85,180 meals daily, mostly to women and children.
The Nutrition Cluster has distributed 30,000 bags of Corn-Soya Blend (CSB) in Bay, Bakool, Gedo and Juba regions. In February, UNHCR estimates that fighting caused nearly 24,000 displacements with nearly 6,000 displacements occuring in Mogadishu only.
The Report can be downloaded here: Tweet