13 Children Die of Famine in Alamada Village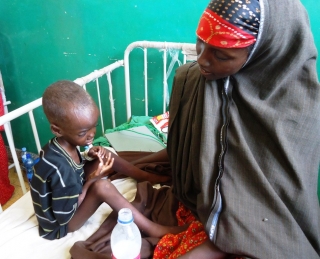 At least ten people, mostly children, have died from hunger and diseases over the last 24 hours while Some 60 were reportedly in serious condition in the outskirt of Somalia capital Mogadishu.
Abdiaziz Guled, a chairman of Alla-Magan IDP in Alamada village told Somalia Report that about sixteen children have died in the last two days while three of them were from the same families.
"children are dying here every day, they don't have enough medical assistance and more than 60 children are suffering from measles in the camp," he said.
Abdiaziz urged humanitarian agencies and al-Shabaab officials in the region to rescue the victims with an immediate medical reliefs.
Other cases of death have been reported from Mogadishu IDPs including, Abagado, badbaado, Howlwadaag and Hamar-jajab IDPs.
Somalia government has prohibited the foreign humanitarian agencies,including the Turkish aid workers, to reach al-Shabaab controlled regions.