Heavy Rain kills Dozen in Somaliland
Twelve Others Remain Unknown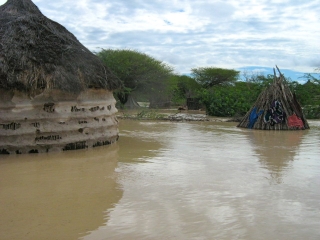 At least 12 people are reportedly killed after flash floods triggered by days of heavy torrential downpour hit parts of Somalia's northern breakaway region of Somaliland.
The floods wrecked havoc in villages in between Djibouti and Somaliland countries where people and their animals were swept away by floodwater.
According to resident of Somaliland capital city of Hergeisa, some 12 people were killed after their cars were washed away.
"Floods has caused the deaths of 12 people in Agabar Valley, and there are others who were not found their body'' Abdirisaq Hajji, a resident in the hargaisa told Somalia Report.
Hajji Added that the total of the passengers were 24, 12 others are still remaining unknown.
Somaliland's First Aid agencies have arrived on the scene and they are still busy to rescue the passangers.