Insurgent Loots Relief Aids in Galgudud
Al-shabaab Officials Denied, Accusing Government of Banning Aids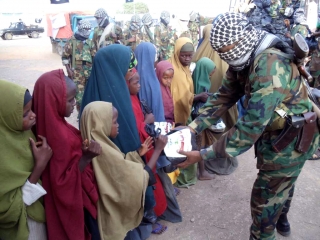 Somalia Pro-government officials on Monday accused insurgent group, al-shabaab of looting humanitarian aids meant for internally displaced people IDPs in Galgadud region of central Somalia.
Reports say that al-Shabaab militias have looted lorries carrying relief aid to the drought affected people in that region.
The Head of Ahlu-Sunna Waljamaa's information officer in central Somalia, Abdullahi Ahmed Samartar told Somalia Report that the militia turned the Lorries that carrying relief aids which was sent by Turkish government and were heading to drought-scorched villages in El-Garas, El-Kohle, Garsale and other villages in Galgadud region, which host a large number of displaced people.
"The aids including rice, sugar, flour, milk and nets, which our Turkish brothers meant to our people were looted by the insurgent group and they stored on their bases," he said.
"They killed many people and now they want the civilians to die because of hunger, since they don't have their supports."
Abdullahi urged the residents who live under al-Shabaab controlled area to stand up and fight against the insurgent and help the fighters of ASWJ to eliminate the militias from Galgadud region.
"Leaders of ASWJ recently announced a war against the extremist, so we want the people to help us to fight against the anti-peace troops, so that we eradicate them from Galgadud region and other parts of the country," he added.
Officials from local Non-Governmental Organization (NGO) confirmed to Somalia Report that al-Shabaab fighters looted the humanitarian aids and arrested some of the local NGO workers, who were distributing aids to Galgadud region.
"They looted at least four Lorries carrying relief aid from Turkey and they told us that they will distribute those aids later, they detained some of our workers yesterday, but unfortunately they released early this morning," an Official from local NGO called Barda told Somalia Report on condition of anonymity.
Insurgent denies
Meanwhile, an official from al-Shabaab drought committee, Sheikh Ahmed Abdisalam denied the allegation, accusing ASWJ of politicizing the drought hit Somali regions.
"That is propaganda, they want to deliver bad images from the Mujahedeen by using the drought and the relief aids," he said, adding "We already declared that al-Shabaab is ready to welcome anyone who wants to help our people, weeks ago Turkish aid workers arrived Lower Shabelle region and distributed relief aids without interruption from al-Shabaab, and that is our missions," Abdisalam told Somalia Report
Sheikh Abdisalam also accused TFG and ASWJ of banning aid agencies to operate al-Shabaab controlling areas and opposing to safe the people.
Early this month, al-shabaab attack donkey carts ferrying aids food in Qoqani district, Lower Jubba and forcefully took away humanitarian foods which were meant for IDPs in the area.
Many aid agencies was forced to stop all its humanitarian food distributions in southern and Central Somalia early this year by threats and order from Al-Shabaab, which controls large swathes of areas in the regions.