Famine Damages Livestock and Agriculture
Officials Urge Aid Agencies to Improve Agricultural Sectors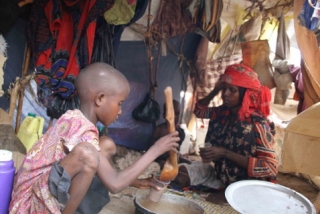 As the United Nations declares Somalia as famine zone and warns that some 3.7 million people are at risk of starvation, analysts accuse UN for not tackling the root-cause.
Mohamed Mahamud Du'aale, a under graduate student from Indian Ocean University in Somalia's capital Mogadishu, told Somalia Report that the international community does not have effective plan towards agriculture and livestock in the regions.
"The people need training and awareness to be alert on crisis like this and they also need to know more about agriculture extension" said Du'aale.
Somali Prime Minister Abduweli Mohamed Ali admitted during two-day humanitarian crisis summit in Kenyan capital of Nairobi that Somalia has seen drough every ten years from 1965, 1975, 1987, but recently the situation changed and every two years or three years the people are suffering from drought.
The central parts are the main regions that were affected by the humanitarian catastrophe which has engulfed thousands of people, according to Abdi Isaq one of drought victims who fled to the capital from the drought-scorched regions of Bay and Bakool.
"We can't understand what is going to happen, we only make reaction when we see the problem," Isaq 52 year's old told Somalia Report.
Abdirahin Mo'alim yarrow, a member of Somalia civil society, said that the aid agencies is not improving the agriculture and livestock sectors ,but only focusing on relief.
"I am urging the aid agencies to focus their funds to the development programs instead of wasting time on relief factors," he said.
According to Yarrow, the conflict is part of drought causes and also civilization may be part of the problem.
However, former parliamentary speaker Sheikh Adan Mohamed (Madoobe) accused insurgent group of barring relief assistance to reach the victims.
Agricultural analyst, Fatima iman Abdule, said the available resources are very limited.
"We haven't seen drought like this before, the previous drought was only damaging the livestock but not affecting both livestock and agriculture," she said.
Solution
Many Somalis believe that the main solutions to solve the crisis in the horn of African country are to change the relief budget in to development programs and to promote good governance.
"I am sure it would be better if we get good government that can handle the whole country by minimizing those crisis," said Yarow.