Somalia Worst in World for Child Deaths
Deaths Set to Grow Amid Famine, Disease, says UNICEF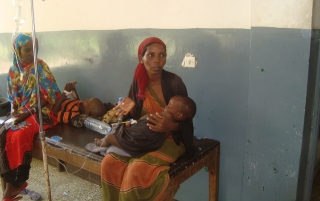 Somalia has the highest mortality rate in the world for children under five as a result of long-term conflict and recurring drought, the UN Children's agency (UNICEF) said Friday.
Citing data from the UN Inter-agency Group for Child Mortality Estimation, UNICEF said that Somalia's child mortality rate in 2010, prior to current famine, stood at 180 deaths per 1,000 live births.
"Even before this current crisis, one in six children was dying before their fifth birthday. Now we anticipate this number of deaths will be even greater." said Rozanne Chorlton, UNICEF Representative in Somalia. "There is no doubt that Somalia is one of the toughest places for a child to survive."
Six areas in southern Somalia are official famine zones, 750,000 people face an imminent risk of death, and 1.5 million children need urgent assistance, including 336,000 children under five who are acutely malnourished, UNICEF said.
The rate of global acute malnutrition in Bay Region is 58%, almost four times the emergency threshold set by the World Health Organization.
UNICEF warned that if the rains come as expected in the coming months, the unwanted side effects will be outbreaks of malaria and pneumonia, increasing mortality among children weakened by malnutrition. Ten people, including seven children, have already died from malaria in Bay Region this week, while dozens more are in hospital with the illness.
UNICEF said in August there were 1,903 cases of malaria, 9,500 cases of pneumonia and 7,109 cases of acute water diarrhea. As of last year, less than a third of one-year-olds were immunized against deadly vaccine-preventable diseases, over 70 per cent of the population lacked access to safe water, and just three out of 10 children of primary school age were enrolled in school.
"To make sure we save children's lives, we need a serious investment in Somalia's future to make sure that anything like the current crisis never happens again," said Chorlton. "Such investment needs to begin with children, who are always the first to suffer during times of famine and hardship."
Somalia has been embroiled in chaos since the 1991 ouster of dictator Mohamed Siad Barre, first engulfed by warlord-led battles and then an insurgency by militant Islamist group al-Shabaab, which has banned many aid agencies from operating in areas under its control.