Al-Shabaab Arrests Families Fleeing Famine
Militants Vow to Arrest Anyone Fleeing to Refugee Camps in Kenya or Ethiopia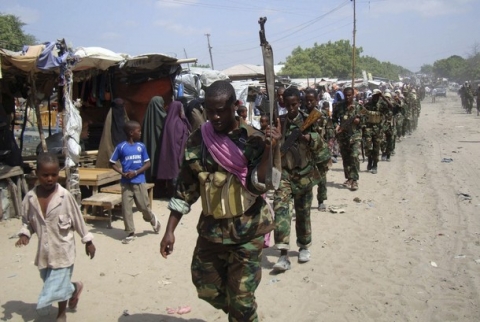 Al-Shabaab fighters have arrested at least 35 people trying to flee different parts of Lower and Middle Juba regions of Somalia, which are under the control of the Islamic militants, as they tried to make their way to Kenya in search of food and water.
Several families were jailed in Afmadow region of Lower Juba, according to Mulki Abdukadir Elmi, a local resident.
"The fighters arrested 25 people in Afmadow district. The people fled from Middle Juba, Bay and Bakool regions to reach Dadaab refugee camp in Kenya," she told Somalia Report.
One of the al-Shabaab officials in Afmadow District told the local media they arrested the families for violating their law which forbids people from seeking assistance in neighboring countries, despite the severe drought ravaging Somalia.
He threatened that the fighters will increase crackdowns against Somalia's internally displaced people (IDPs) who are planning to flee to Kenya and Ethiopia and urged the people to stay their country rather going outside of their motherland.
A second incident occurred in Hosungow village, 40km from Dhobley district where al-Shabaab arrested more than 10 people in the surrounding areas of Hosungow village in the last 2 days.
Anwar Suleiman, a resident in Hosungow, told Somalia Report the fighters made the arrests as the families were trying to cross the border between Somalia and Kenya to reach Hagardere, which is the most populated camp of the three different camps that make up Dadaab in Northern Kenya.
Al-Shabaab's operations against the Somali families have increased during the last 3 months, according to Ahmed Abdishukri Qaasim, a bus driver who travels between Somalia and Kenya.
"Since June of this year the fighters have been looking for families fleeing Somalia arresting and ordering them to stay in their country," he said.
He added that al-Shabaab has also increased the crackdown on other regions under their control, including Baidao, Kismayo and parts of Gedo region.
They imposed an order indicating that any individual trying to leave the country must first get permission and a signed travel document from the militants or they will not be allowed to leave.
Kenya is hosting hundreds of thousands of Somali refugees in the world's largest refugee camp near the Somali border.