Feature
Contractor's Paradise - Part One
Optimists, Mercenaries and Carpetbaggers Descend on Mog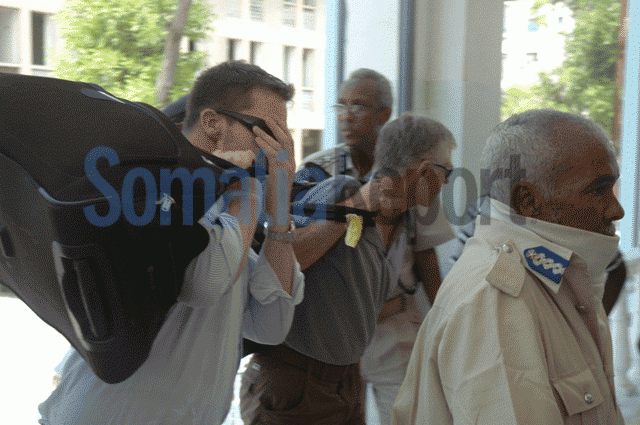 It remains to be seen if the image above snapped by Somalia Report will be the outside world's view of contractors working in Somalia - furtive, anonymous and up to something that we can't quite put our finger on. The westerners in the photo worked for Salama Fikira and were doing a ransom hand-off when they suddenly found themselves criminals arrested by Somali police and their cash quickly stripped from them. After all, don't they know there are laws here?
Ransom drops have been going on for half a decade in Somalia and although pirate payoffs are good business, the more typical contractor is represented by US, UK or Nairobi-based firms like Halliday Finch, Bell Pottinger, or Albany Associates who have been providing a number of far less cinematic services like media relations and security.
It's that lack of clarity in exactly who is in charge, what the rules are, and the right allegiances that keep many companies focused on nice quiet places like Afghanistan or Iraq.
During the bad old days, few contractors dared base themselves out of Mogadishu and were typically located in Kenya, but more and more are showing up in Mog looking for business. In the first of this series we will begin by profiling only those currently working in Mogadishu.
Contractors In Mogadishu
This series will cover contractors of all persuasions working in Somaliland, Puntland, Somalia proper, the maritime security industry and Nairobi/Uganda headquartered companies. Somalia Report will do it's best to be all inclusive and urge readers to submit opinions and missing companies.
Now that Villa Somalia is no longer a front line and al-Shabaab has busied themselves in the south (and north), the airport is humming with white faces deplaning off Africa Express flights dressed in freshly creased 5.11's and tan adventure wear. It's not just ex-military looking for opportunities, it is also foreign leaders, big name journalists, NGO managers visiting their local employees and folks with vague explanations and itineraries. All bring with them contractors and the promise of contracts. What they will find is a small group of entrenched providers who have weathered the ugly years to set up relationships with the powers that be.
Somalia is not Iraq or Afghanistan and as Mike Stock, the head of Bancroft Global, advises any newcomers, "you better know the rules" referring to the myriad of power players, regulations, embargoes, laws and global bureaucracy required just to get to dollar one. It took four months and "a lot of lawyers and money" for Bancroft to establish a literal beachhead in Mog.
Somalia could be the perfect paradise for contractors due to the State Department's policy of "We do not want an American footprint or boot on the ground" and the relative opportunities for stabilization, training, governance support, humanitarian aid, intelligence gathering and other needs. All provided by outsiders. Somalia is also the perfect storm of terrorism, Islamic fundamentalism, famine, destroyed infrastructure, and piracy with a geo-strategic position in the Horn of Africa.
Long before Somalia Report was even an idea on a Post-It, we watched the evolution of contractors in Somalia. The first major recent contract in Somalia was in December of 1992 when Brown & Root was paid $110 million to support the logistics of Operation Restore Hope and the follow on activities. They quickly became the largest employer in the country with 2,500 Somalis on the payroll.
The use of a contractor to replace direct military resources (like the Sea Bees or transportation units) was new but not unusual since people like then-SecDef Dick Cheney knew how oil companies could hire contractors to quickly put up support systems and then ideally take them down. They had been used to build bases in Vietnam and were becoming more integral to the Pentagon's view of themselves as expeditionary rather than occupational. In Iraq and Afghanistan the temporary cost saver of using contractors instead of expanding the army has turned into a decade long cash cow for what are humorously called the "Beltway Bandits".
The last ten years have seen an explosion in small and medium sized contractors employing ex-military skill sets and taxpayer dollars to quickly plug in needed resources in a wide range of information, logistics, security and specialized areas. This rapid escalation of the private sector in conflict zones has not been without controversy and profits.
Here be Dragons
What we are seeing in Somalia is a new mix of old school and new generation contractors providing a fascinating blend of services - some of them like global giants like PAE, old hands dating back to the fifties, and some new upstarts like Bancroft trying to build socially responsible models. Somalia is under a long standing, wide ranging arms embargo, financial restrictions and violent landscape which makes it very tricky to enter the Somali contract market without checking all the boxes. The entrepreneurial vigor of various short lived Transitional Federal Government (TFG) officials have also lured many well intentioned corporations to their financial and media deaths.
Warning signs depicting the fates of the ill-fated Top Cat and Saracen should be posted at every Somalia airport. Both companies featured high powered principals and both got caught up in the capricious and cruel regulatory spokes of the UN, ITAR and State Dept wheel - the same august organizations that repeatedly call for outside solutions and donors to stick their fingers in the bureaucratic spokes again.
To begin our series on contractors here is Somali Report's roll up of legitimate contractors who are engaged in land-based activities in and around Mogadishu, most if not all in direct support of the African Union peacekeeping mission in Somalia (known as AMISOM), the UN and the United States. We have not delved into the Ethiopian, French and US support for covert activity, intelligence gathering and training but on overt business activities. But the short answer to "is Somalia a good bet for future contracts" is yes.
The Somalia Report Who's Who in Mogadishu
African Union Mission for Somalia (AMISOM)
P.O. Box 20182-00200
Nairobi, Kenya.
+254202713755/56/58
amisomhom@gmail.com
http://www.amisom-au.org/


Somalia Report will take our lumps for saying this but the US, EU and UN funded AMISOM is essentially a US-funded contracted activity to the Ugandan and Burundian army. Since March of 2007, they have spent $300M so far and only just now providing demonstrable benefit. Despite the creep, mission insiders constantly point to a lack of proper funding for their effort. In 2009 AMISOM soldiers actually came down with scurvy, and still live in deplorable conditions. But as any AMISOM soldier will tell you, he is there for the money - all $1000 per month after his paymaster slices off $200 for the Uganda coffers.

Contractors? The TFG's babysitters are from only three of the 50-plus African nations and make a profit as do the providers of the training, logistics and equipment. Like the clumsily constructed "Coalition of the Willing" rigged for the Iraq invasion this essentially "Rent-A-Ugandan" appears sufficient enough to keep the flip-flopping jihadis and perpetually self detonating al-Shabaab at bay.

Keep in mind that the UN Monitoring Group has magically determined that al-Shabaab is a $100M a year "business", putting the terrorist and peacekeeping group just behind piracy as the number one business in Somalia ($140M in ransoms were paid to pirates last year). But AMISOM success is poised to take over the number one foreign business rank. Pirate ransoms will be lower this year, Shabaab is back to press ganging kiddies and AMISOM will be expanding. That means a lot more training and support contracts.

If you look at the annual income of the average Somali at $500 a year (realistically about $250 per month in the city), that's a lot of money that doesn't seem to hit the ground.

The funding arm is UNSOA which doles out money as they see fit into the empty bucket called AMISOM. AMISOM currently is primarily Ugandan and Burundian forces and soon to be token soldiers from Djibouti, Sierra Leone and South Sudan.

All AMISOM rank and file troops require extensive training, equipment and support to function in Somalia. The Ugandans are experienced in the bush wars but not in urban close combat. The AU organization does it's best to explain that they work under a very limited UN mandate and it is up to the TFG to come up with political solutions in the "space" they create. The TFG of course points to the international community as the ones who should foot the bill, particularly considering that Libya has vanished as their main sugar daddy. This all points to more contracts and more contractors.

Bancroft Global Development provides a significant amount of this field training while the US supplies the funding via a circuitous route by paying each government's Ministry of Defense directly who then (hopefully) disburse funds to the troop's personal home accounts. AMISOM has been successful in their mandate to protect the TFG and guard relief efforts but now that they are overextended due to that same success. It remains to be seen who will shore up their greater task in Mogadishu and soon to be in Galkayo.

Pacific Architects and Engineers (PAE)
525 Wilson Blvd, Suite 900
Arlington, Virginia 22209
888-526-5416
www.paegroup.com
communicate32221@paegroup.com


AECOM
555 South Flower Street, Suite 3700
Los Angeles, CA 90071
(213) 593-8000
www.aecom.com
connect@aecom.com


PAE took over DynCorp's AFRICAP contract in September 2010. They provide logistical support to AMISOM and AECOM deals primarily with the Burundian contingent. With $7.7B in income last year, AECOM is a rising force in the "big bucket" contractor world.

PAE was founded in 1955 and was one of the original 'facilities engineers' used by the military in the Vietnam War. In Vietnam PAE grew from 274 men working at six Special Forces adviser sites in 1963 to over 24,000 employees and 120 locations at the peak of the war in 1968. The mix was 5 percent US, 15 percent TCN's, and 80 percent local employees.

In Somalia PAE works for the US State Dept under ACOTA to "provide training, logistical and construction services to the State Department under the Africa Peacekeeping Program (AFRICAP). It also supports rule of law development activities under State's Civilian Police (CIVPOL) contract."

Bancroft Global Development
2507 Massachusetts Avenue
Washington, DC 20008
(888) 801 6777
+41 43 456 9634
www.bancroftglobal.org
info@bancroftglobal.org


Bancroft is a US charity run by Princeton grad Mike Stock and his wife. Founded in 1999, Bancroft has been picking up bits and pieces of contracts via AMISOM and the US to provide field training and IED/UXO expertise. They also run a 60-room, $155 a night safe house/hotel that is usually fully booked up by the UN and journos. For many years and due to carefully following the rules of providing training in Somalia, they were the only legal game in town. Their two dozen foreign trainers can be seen along the front lines and in the range teaching Ugandans how to fight, defuse IEDs and gather intelligence.

Although it might superficially like Bancroft could be an ideal front for the CIA, owner Mike Stock says his philosophy cuts directly against the grain of the Agency.

Bancroft's headquarters in Mogadishu is their hotel while back in Washington, D.C. Bancroft operates out of a $5M mansion on Embassy Row under a legal entity called Donovan and Bond. For trivia fans, this was also the name of a now defunct law firm created by "Wild Bill" Donovan, the founder of what is now the CIA.

When that coincidence is brought up Stock replied, "We don't care what the Agency thinks. We don't interface with them. I don't like their business model," Stock told Somalia Report in an lengthy discussion.

Stock maintains that they are focused on capacity building, operate transparently which is attested by their profiles recently featured in the NYTimes and AP articles in which the one of more colorful members of their group were profiled (and according to Stock, misquoted). To add to the confusion, Bancroft's website continues to be a single page with little insight on their company or operations.

Stock is not entirely pleased at the focus taken by the New York Times profile which lasered in on former South African mercenary Richard Rouget rather than the other two dozen foreign trainers (mostly Europeans and South Africans) who have dramatically reduced deaths caused by IEDs and AMISOM-caused civilian casualties by indiscriminate fire.

Bancroft's business model is to get in early, provide capacity and then if opportunities exist, engage their investment arm to take advantage of opportunities.

Polaris Business Intelligence and Investigations (PBI2)
(406) 322 3155 - USA
+44 77 1040 9916 - UK
+254 721 632 492 - KENYA
www.pbi2.com
solutions@pbi2.com


The World Food Programme says PBI2 is contracted to carry out third-party monitoring of activities in areas where its staff has limited mobility.

"These third-party monitors visit our food distribution sites to provide quantitative and qualitative reports on those activities, which feed into our overall monitoring system," Challiss E. McDonough, WFP's Senior Spokeswoman for East, Central & Southern Africa, told Somalia Report.

Sources in Mogadishu's contracting industry say PBI2 also handles security for WFP's food deliveries in-country. Their "two guys and a website" approach is standard in the security industry but unhelpful. Their official version of "designs and manages complex, multi-stakeholder projects for businesses, governments, international organizations and organizations in the humanitarian sector" means they actually coordinate various militias around Mogadishu to deliver WFP shipments, according to local sources.

McDonough, however, says this is not true.

"They do not provide security, nor do they directly take part in distribution or transportation of WFP food assistance," she said.

They also publish rather lengthy and stentorian intelligence briefs on Somalia.


SKA Arabia
B-21, DAFZA
P. O. Box 293 551
Dubai, United Arab Emirates
+971 4 236 7801
info@ska-arabia.com
www.ska-arabia.com


SKA runs Aden Adde airport and has contracts in Iraq and Afghanistan. Beginning in December of 2010 as SKA Air & Logistics (SKA) their main responsibility is to manage the terminals, provide security as well as do screening of passengers and cargo. They were said to have a ten year management contract and bumped up against some infighting in the TFG before they were cleared to do business and continue to face resistance by various carriers.

Like others they also wanted to run the Port of Mogadishu but quickly found out it is a well protected cash cow that is not looking for outside management. It appeared that local warlords were getting $15K a month for protection and padding the payroll just like any other mafia controlled dock in the US it appears. Airlines like Jubba Airways, African Express Airways, Air Djibouti and cargo flights keep SKA busy enough.

Mechem
368B Selbourne Avenue
Lyttelton, 0157
South Africa
www.mechemdemining.com/


Mechem is a South African company well known for their demining work around the globe. They also supply modified versions of the CASSPIR armored transport and demining equipment to AMISOM and the UN who are located in their new bunker at the south end of the airport. On August 1 of this year one of their western contractors was killed in Mogadishu.

Gossamer Crossing, Inc.
16520 Wedge Parkway, suite 300
Reno, NV 89511
(775) 345 3505
contact@gossamercrossing.com
www.gossamercrossing.com
Gossamer Crossing is an engineering firm that is looking to Africa for expansion. They can be seen at Mogadishu airport with their natty golf shirts supervising the installation of runway lights and fence.

RA International
Office #7, Giga House Bld.
Al Quoz 1, Sh.Zayed Rd
PO Box 115774, Dubai, UAE
+971 4 330 7233
www.rainternationalservices.com/
somalia@raints.com


A UAE based company that hires primarily South Africans to construct modular buildings for AMSIOM via UNSOA. RA International began in Afghanistan in 2002 and now has around 1,000 employees from 27 different nations working in Sudan, Sierra Leone, Kenya, Chad, Uganda and Somalia. Lars and Soraya Narfeldt are the owners.

They got the idea for the business while Lars worked for the UN in Afghanistan and started work in Somalia in 2010. Their projects include grading, leveling, site work and building access roads at 10 different locations around the Somali capital. They are looking to build roads, clinics, warehouses and provide AU maintenance.

Danish Demining Group (DDG)
Borgergade 10, DK-1300
Copenhagen K, Denmark
+45 3373 5112
www.danishdemininggroup.dk/ (website down)
anette.christoffersen@drc.dk


DDG began in 1997 as an independent organization and then merged with the Danish Refugee Council to create a broader spectrum Humanitarian Mine Action group. Run by Ms. Anette Christoffersen the DDG provides training and support to AMISOM and the UN on IED/UXO as well as IED/UXO awareness training to Somalis as well.
ALL THIS TALK ABOUT RUMORS
Mog is a hotbed of spiteful rumors, unreliable "reliable sources" and plain old bovine droppings shoveled indiscriminately in the direction of anyone seeking confirmation. Currently there are rumors about "a one thousand man force" being trained up which Somalia Report is running to ground. Saracen was fingered at first but those rumors were false. Bancroft was the next, but no luck. The best we can guess is that incoming Somalia trainees who are re-mobbed at "al Jazeera" field before integration into the TFG.
So with full disclosure that these are more in the area of "buzz" than facts, here are the most talked about rumors.
Aegis Defense
39 Victoria Street
London. SW1H OEU. UK
+44(0)20 7222 1020
info@aegisworld.com
www.aegisworld.com


Former Scot's Guard, SAS Gulf War planner and Sandline mercenary Tim Spicer, has been trying get his maritime sector back in action since 2008. His men can be seen around Mogadishu with their role ostensibly "providing security for the UN". No one else has confirmed this and we are awaiting for clarification from Aegis.

Saracen
Fakher Dine Street
4th Floor, Office 402
Saida-Lebanon


Saracen is perhaps the most controversial firm to appear in Mogadishu, a place were South Africans contractors are viewed as almost locals. Now officially defunct, Saracen had a contract to create a brigade sized private security detail for President Sharif (torpedoed by Speaker Hassan) and an anti-piracy contract in Puntland to train and support another 1,000 man brigade which has been shuttered by an over the top response from the UN Monitoring Group. Currently there is a small free clinic at Villa Somalia, a well boring project and the northern facility delivers food and water supplied by the UAE.

Somalia Report sent staff to both locations to confirm that there are only skeleton staff manning each location.

NEK ASG/NEK-MSS
Corporate Headquarters
> 110 S. Sierra Madre
Colorado Springs, CO 80903
(719) 634-5523


Multiple sources inside the contractor field and inside Somalia keep pointing to the firm NEK MSS setting up an operations center or forward operating base (FOB).

NEK has its roots in the Army Special Forces community with an office near Fort Bragg. It also owns Laconian which hires ex-Delta and other experienced hands for contract work. Currently the ex SF owned company has about 2,000 employees and provides significant cleared and open support to a variety of government agencies.

Chief Administrative Officer Mark Marchant responded quickly to Somalia Report's inquiries saying they are doing nothing in Somalia but contractors tell Somalia Report that they would be eager to pick up contracts in Somalia.

The rumors may surround NEK's maritime division. NEK MSS is registered in Panama to work around and number of thorny "weapons on ships" rules. Insiders know that the founder of the maritime division has spend a significant amount of time researching the various international laws that govern rules of force that hinder currently anti-piracy activities and may be testing the waters (to use a bad pun). Another division Lakonian does port security, anti-piracy and supply chain/logistics security so it would be more surprising to not have them in the mix. Not to be confused with yet another ex SF, Spartan fan group with ex-Delta folks called Laconia.

Glevum Associates
1 New England Executive Park
Burlington, MA 01801
(781) 229-0903
glevumassociates.com/


Glevum calved off from D3 Systems to support the Army's controversial Human Terrain program. The State Dept and DoD are big fans of popular metrics to see how they are doing outside their Hesco walls.

This research company lists Somalia as one of the areas they provide services in and the recent TFG decision to create regional polls is a essentially an open door to the curious US system of using polls to define and shape messages, elections and 'hearts and minds' campaigns. As the lead up to the transition of the transitional government begins, policy makers and shapers will have their fingers in the Somali political fracas via these type of companies.

DynCorp International
Corporate Headquarters
3190 Fairview Park Drive, Suite 700
Falls Church, VA 22042
(571) 722-0210
http://www.dyn-intl.com/


DynCorp, like PAE, is a grand dame of the contracting business. Originally started as a post WWII company to contract back US aviation assets and pilots, they have expanded into one of the "big bucket" contractors that feature hundreds of smaller contracts tucked inside unfathomable giant IDIQ contracts. They picked up quite a bit of Blackwater's business in Iraq and although they were elbowed out of current work, they are rumored to be in the wings for some new contract support work.

DynCorp was featured in an odd mix of contractor gossip in March of 2009. Back when Bancroft was just beginning their work in Somalia, a DynCorp-chartered Ugandan based Illyushin cargo plane went down after take off killing one of Bancroft's South African employees. Duncan Rykaart was one of senior people working for Aegis in Iraq owned by a former mercenary for Executive Outcomes in Angola, Tim Spicer. He worked for Spicer running their Iraq operations just before he took the contract with Bancroft. In other words, it is a small world even for big contractors.
Somalia Report's takeaway is that the landscape for contractors is about to change dramatically. There has been a robust intelligence training program going on using Agency money at the airport and support services to this endeavor for years. The port in Mogadishu relies on contractors as does much of the relief effort. With all efforts stepped up, foreign donors eager to stabilize the region, and security increased, the conditions are right for profit.
What is missing from much of the conversation about contractors (usually skewed to media bashing of security contractors while their security contractors stand just off camera) is that there is huge divide between privately funded contractors and taxpayer funded contractors. Just as PAE fired the 2,500 Somalis they hired in the early 90's, the big bucket contractors tend to flow massive amounts of money into politically motivated boom and bust projects that send the successful local businessmen to Dubai and leave the locals wondering where their jobs went. In a word sustainability should be the watchword when debating the merits of contracts. There are plenty of lessons learned in Iraq and Afghanistan.
But if history is any help, the early adopters might find themselves pushed out of the way by larger more State Dept-friendly entities and big bucket contractors as urgent and compelling - under $10M projects - will start to appear.
IN OUR NEXT INSTALLMENT WE WILL EXPLORE THE WORLD OF MARITIME SECURITY CONTRACTORS. IF YOU WOULD LIKE TO BE INCLUDED/INTERVIEWED PLEASE SEND YOUR DETAILS TO:
publisher@somaliareport.com