Analysis
TFG Agrees To End Transition
Polls to Determine Leaders will be Held Before Next August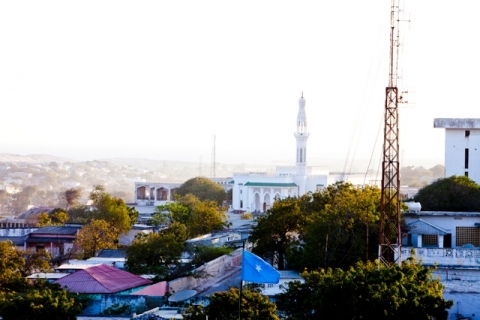 The world's longest running temporary government agreed to be less intransigent and more permanent by next August. They agreed to hold "polls" to determine who should be in government and local administrations. Those polls will more than likely be conducted by a US funded contractor as will much of the constitution writing, governance training and other critical elements. Ideally leading to democratic elections and a more stable future.
The unexpected stability due to the departure of al Shabaab is good because it means money can flow. NGO's can flourish and contractors can start burning well intentioned money on those impressive security and governance programs. The recent influx of world leaders also means that much of the "wait and see" attitude has turned into "hurry up and get it done". The recent "touch and go" international diplomacy also signals that outside money is on the way.
Somalia has been run by an endless procession of transitional Mogadishu-based governments since Siad Barre was overthrown in 1991. The U.S. has always tried with varying degrees of efficiency to steer the region back into stability. So using proxies and persuasion (but little money) they created, destroyed and recreated a number of temporary governments. To achieve this Somali officially became a ward of the UN. America loves transitional governments. It's just that they aren't supposed to last twenty years. For example, the Iraqi Transitional Government was created on May 3rd, 2005 and ran until May 20th, 2006. It took about two years to steer the Afghans from anarchy into an election that elected Karzai. In Libya the government was already packaged and ready for delivery.
The basic idea of temporary governments is that you get what looks like a quorum from locals and U.S. friendly diaspora, pay them a stipend, keep them alive long enough to develop systems and then write their constitution for them. Once it's approved, it's off to wonky elections and the U.S.- friendly candidate wins. Or so that is how the script went in Afghanistan and Iraq. The local powerbrokers who don't play along, are supposed to be ignored, marginalized and then sent off to a nice western country to live. Somalia has been resistant to this formula with Somalis being far smarter and politically deft than their outside handlers. That is why the outside money is important. From money comes power and control. This TFG and the next iteration should be able to make it work if the outside support actually appears in time.
Not too long ago
Somali watchers will remember that the current TFG ran out of time in August. Under the Djibouti Accord the two "Sharifs" (referring to the president and the speaker) were supposed to bridge opposing views and get to work....back in 2008. Instead they became a tag team, each one taking dents out of each other's political position. None of the promises and hopes that fueled this iteration of the transitional process came to fruit.
In the spring they asked for more time to take advantage of recent African Union peacekeepers (AMISOM) gains. This spring Speaker Hassan played a little brinksmanship against President Sharif. Hassan simply had everyone vote themselves in.
The US, UN, IGAD and anyone who had a press office viewed the TFG's decision to reinstall itself as anarchistic.
"This unilateral and unrepresentative extension ... serves only to further undermine the credibility of the Parliament and risks strengthening al-Shabab,...This self-serving political maneuvering calls into question the suitability of the senior leadership of the Parliament as viable partners for the Somali people and the international community as we collectively work to bring peace, stability, and progress back to Somalia," according to a US embassy press release.
The UN wasn't exactly a cheerleader in the process and shots were taken at the TFG's daycare army. The UN representative for Somalia, Augustine Mahiga, himself described the AMISOM effort as "very badly under-resourced, underprotected and underfunded." It was about the clearest vote of non-confidence one could give to ones' own children and playground.
Meetings back in the US about Somali were ones of exasperation, describing Somalia's government as persistently successful in their failure and deft in their efforts to get wound around the axle of diplomacy and governance. The original mandate of actually creating a constitution and some sort of consensus was a fantasy.
Hassan's gamble paid off. The stand-off was ended with a closed session head knocking and then a group hug in Uganda with the UN's Mahiga announcing a petulant but official stay of execution for the TFG. The casualty was that the newish prime minister was shot out of a cannon and a new government was mixed and matched to keep everyone happy. In hindsight Hassan was adept by flexing what muscle he had. It brought home that Somalis may not be resourced but they can out-politick the world's most powerful organizations.
Politics weren't the biggest problem back then. It didn't help that a year ago Mogadishu was an ugly back and forth tennis match of US supplied ordnance with AMISOM being the biggest killers of Somalis. The TFG, when lured out of their hotels to visit Somalia, were holed up with the front lines backed right up to Villa Somalia. They could not be blamed since the year before that they were the direct targets of al-Shabaab. Turns out the apoplectic press releases from the U.S. UN, IGAD and others were wrong. Hassan waiting until exactly the right time and judo flipped his sponsors on their backs. They had to stick with the TFG because over the last twenty years they had developed no "Plan B." With al Shabaab literally at the door of the TFG, an autonomous non compliant Somalia was even more dangerous than a dysfunctional semi compliant one.
Feuding neighbors
Outside of Mogadishu, the TFG and the concept of a unified Somalia was irrelevant. Many in the State Dept liked the novel idea of simply doing nothing based on how well Puntland and Somaliland were doing without UN meddling. Somaliland could care less about what Mogadishu had to say and Puntland was fending off their rapacious attempts to expand their territory. NGO's grimly prepared for yet another drought and the world had far more important economic problems at home to care about a banana republic that didn't even sell bananas anymore.
But the naysayers were wrong. The TFG, specifically President Sharif, has quickly begun a micro form of shuttle diplomacy by flying to Garowe for a much publicized visit and then inviting President Farole down for an extremely productive session. President Farole commented on the decade long gaps between his visits to Mogadishu and looked forward to rebuilding lost trust.
The UN touts this as akin to a peace accord but just like the "sound of one shoe dropped" stability in Mogadishu, What is positive is that Puntland may stop drifting further away from Mogadishu. The real success will come when actual effort has been set forth by "the government formerly known as the TFG" to solve Puntland's many problems. For example there is an under-utilized port in Bosaso, a need for fisheries and a constructive need to get rid of pirates.
Somaliland could care less what the TFG does or thinks but what Puntland does will affect how the outside world views their recalcitrant position on autonomy. Djibouti, the Ogadan or Northern Kenya aren't coming back to the fold but a coherent government in Mogadishu and a workable federal system could stem the current fragmentation.
The current mood of success is not due to the TFG's efforts alone; Extra AMISOM troops helped, foreign advisors helped, killing al-Qaeda's bag man helped, and the retreat of of al-Shabaab from Mogadishu created the reverse dynamic. Now the TFG will have to actually do all those things it said it couldn't due because lack of security. This will be the focus of all Somali's and the foreign diaspora.
So based on Somalia's long and cyclical history of success and failure, the current members of the TFG stands poised to snatch defeat from the jaws of victory or this they could take advantage of this window and push back Somalia going over yet another precipice the country has fallen over many times before. ..
The Overview of the Agreement
Somalia Report attended the three day conference and our correspondent reported that four working groups, with 9 members each, made up of the pro-government Ahlu-Sunna Waljama militia, the TFG, Galmudug and Puntland met on Monday to discuss security, reconciliation, constitution, and the good-governance.
The high points of the agreement are:

- Somebody is going to be doing a lot of polling, focus groups and western style political ground laying. Since Somalia is considered a "hot bed of terrorism" along with Afghanistan, Yemen, Iraq and other poor nations in the regino. That means the U.S. is going to be deciding who runs the country.

- Somali's (now including those from clans in the north and the middle) will finally be recruited and trained inside their own country. This disturbingly simple idea has eluded the UN because of the lack of controlled real estate to actually train troops in. Once again this is an investment the U.S. is willing to make based on its covert actions in the past.

- AMISOM is expanding to Galkayo. This simple step creates an interesting logistics problem and the need for a new forward operating base and a potential for more tension as foreign troops (albeit UN mandated) expand their presence.

- Puntland (specifically Garowe) will be the site of the next major meeting. This is a positive sign and one that seems a long time coming since Puntland has been far more stable than Mogadishu. Puntland has been much maligned but has maintained a level headed approach towards Mogadishu.

- More talk and promises about anti piracy, building prisons, restoring fisheries etc etc. but all with an overwhelming sense of "Who is going to pay for all this?" Which leads us to our upfront conclusion that most if not all of this will be handled by outside contractors funded by U.S., UAE, Kuwaiti, and other bordering but affluent nations.
What is positive is that Puntland may stop drifting further away from Mogadishu. he real success will come when actual effort has been set forth by "the government formerly known as the TFG" to solve Puntland's many problems. For example there is an under-utilized port in Bosaso, a need for fisheries and a constructive need to get rid of pirates.
According to Ambassador Mahiga, financial support by the international community shall be based on the implementation of the above tasks. "This will be monitored on continuing basis while measures will be taken to insure the timeline," Mr. Mahiga.
"I have 100% confidence that this initiative process in the road map should be won by all the stake-holders in Somalia and after next year there would be steady Somali government. Somalis realized that another interim government would not be good for the country," Somali MP Mohamed Ibrahim Habsade told Somalia Report
"I think this consultative meeting has been going well over the last three days, though things are not yet clarified exactly. I have to say this because, still there is no real decision statements issued by the involved parties like the UNPOS or the government but we shall see for the coming for the exact outcomes from this," Mogadishu-based political analyst Awil Burhan told Somalia Report.
So before you rush out and buy an ocean front condo in Hobyo...just remember Somali bookies don't take bets until all the horses have crossed the finish line. There are so many other problems this flurry of activity hasn't begun to touch.
The Full Text of The Written Agreement
CONSULTATIVE MEETING ON ENDING THE TRANSITION IN SOMALIA

Statement on Adoption of the Roadmap Mogadishu, 6 September 2011

1.The first Consultative Meeting on Ending the Transition was held in Mogadishu from 4 to 6 September 2011.

2.The Meeting was addressed by H.E. Sheikh Sharif Sheikh Ahmed, President of the Transitional Federal Government (TFG), Hon. Sharif Hassan Sheikh Adan, Speaker of the Transitional Federal Parliament (TFP), H.E Abdiweli Mohamed Ali, Prime Minister of the TFG, Abdirahman Mohamed Mohamud, President of the Puntland State of Somalia, Mohamed Ahmed Alin, President of the Galmudug State of Somalia, and Hon. Wafula Wamunyinyi, Deputy Special Representative of the Chairperson of the African Union Commission. The Meeting was facilitated by Augustine P. Mahiga, Special Representative of United Nations Secretary-General.

3.Delegates included members of the TFIs, Puntland State of Somalia, Galmudug State of Somalia and Ahlu Sunna Wal Jama'a. Approximately three dozen stakeholders from the international community also participated in the proceedings, including: regional organisations, namely: European Union, Inter-Governmental Authority on Development, League of Arab States and Organisation of the Islamic Conference.

4.A special session on the humanitarian crisis and ongoing drought was held, during which the UN Humanitarian Coordinator, Mr. Mark Bowden briefed participants.

5. The Meeting considered four priority tasks for ending the Transition before 20 August 2012, namely: Security, Constitution, Reconciliation and Good Governance and adopted the Roadmap outlined in Annex 1 and, agreed to the following principles for its implementation:

• Somali Ownership: The TFG shall lead the process of the implementation of the Roadmap, working with TFP, regional entities, and all sectors of society, including women, business community, religious leaders, elders and youth.

• Inclusivity and Participation: The implementation of the priority tasks in the Roadmap shall be inclusive with participation of the TFG, TFP, Puntland State of Somalia, Galmudug, ASWJ and Civil Society. • Resources: The TFIs and the international community undertake to provide timely support for the implementation of the Roadmap in line with a Resource Mobilization Plan with milestones which shall be agreed within 21 days. Financial support by the international community shall be on a results basis and contingent upon the implementation of the priority tasks in the Roadmap.

• In view of the limited time and resources, the TFIs and international community should, to the extent possible, hold meetings inside Somalia to allow the TFIs to devote more time to the implementation of the Roadmap.

• Monitoring and Compliance: The implementation of the Roadmap shall be monitored on a continuous basis and appropriate measures taken to ensure compliance with the benchmarks and timelines in accordance with the Kampala Accord.

6. Within 14 days a Technical Committee composed of the TFIs, regional entities, ASWJ, and regional organisations including: (IGAD, EAC, AU, AMISOM, League of Arab States, EU and UN shall be formed to facilitate cooperation and collaboration among the Somali parties and with its international partners to implement the Roadmap. The Committee shall work from Mogadishu.

7. Finally, the Meeting expressed gratitude to AMISOM and troop contributing countries namely, Uganda and Burundi, and Somali forces for the sacrifices they continue to make to advance the cause to peace and stability in Somalia. Signed on this day, 6 September 2011, in Mogadishu, Somalia

................................................

H.E Abdiweli Mohamed Ali, Prime Minister of the TFG, Abdi Farah Saeed,Minister of Education, Puntland State of Somalia Mohamed Ali-Nur Hagi,Minister of Int. Cooperation, Galmudug

Khalif Abdulkadir Moalin Noor Head of the Delegation, ASWJ

Augustine P. Mahiga,SRSG

Hon. Wafula Wamunyinyi, DSRCC

Mohamed Said Omar,Senior Governance & Policy Advisor IGAD

Mohamed Idris,Head of League of Arab States Mission in Somalia

ANNEX 1: SOMALIA END OF TRANSITION ROADMAP Benchmark 1:

Security – (a) Improved Security in Mogadishu and the rest of Somalia

Key Tasks and Timeline Responsibility Resources Compliance

(a) An inclusive JSC through bi-monthly meetings in Mogadishu to address key security issues and challenges facing Somalia;

(b) National Security and Stabilization Plan (NSSP) approved and being implemented by 19 October 2011. Over the next 12 months implement the following priority areas:

(I) Establishment of basic administrative structures and extending maintenance of law and order in areas which have recently come under TFG control and ensure that Somali regional forces being included within NSSP remit;

(II) Enhanced TFG integration and coordination role in co-opting local militia under its authority;

(III) Regional/District Security Committees for coordinating/facilitating civilian security, law and order established;

(IV) Disengaging fighters / Defectors / Surrendees program being implemented;

(V) Prevention of the presence of children in the armed forces;

(VI) Efforts being made on protection of civilians from all armed violence, adherence to international Humanitarian Law and Human Rights Law

---JSC; Ministers: Defense, Interior and National Security, Finance, Planning and Heads of National Security Agencies, Observer status -Puntland State of Somalia, Galmudug State of Somalia, ASWJ)

---TFP: Speaker and Parliamentary Committee on Security; JSC, regional entities including ASWJ

--Heads of National Security Agencies;

--UN, AU, IGAD and key member states involved in supporting Security Sector Development ----JSC Secretariat; Meeting Schedule; Office Space; ---Secretariat Staff;

---Budget;

---Funding;

---Workplan

--Senior Security Experts

---Trainings *** (2 day) JSC structured meetings expanded to include regional entities and ASWJ.

**Disseminate National Security Stabilization Plan with regional entities before adoption;

***Basic administrative structures;

***Inclusion of Somali regional forces within NSSP remit;

***Integration and coordination of local militia***District and Security Committees;

***Defector program;

Benchmark 1: Security – (b) Effective maritime security and counter piracy policy and strategy

Key Tasks and Timeline Responsibility Resources Compliance

(a) Effective maritime security and counter piracy policy and legislation in conjunction with regional entities including Puntland State of Somalia and Somaliland established by 20 January 2012; to prevent piracy and protect Somalia natural resources. In particular:

(I) EEZ declared by 19 December 2011;

(II) Appoint a Counter Piracy Coordinator under a designated Minister by 19 December 2011;

(III) Establish Somali Maritime Police Force/Coastguard(s)/Coastal monitoring capability, coordinated with land police force(s);

(IV) Agreed maritime security strategy with the regions and other governments including through Kampala Process by March 2012

(V) Develop programmes for anti-piracy community engagement and linked coastal economic projects by 20 December 2011 and begin implementation by 20 March 2012

(VI) Build capacity to prosecute, try and imprison piracy and maritime law case by 18 May 2012;

(VII) Enact Anti-Piracy Legislation by 18 May 2012 --Min of Fisheries, Min of Transport and Ports, Min of Interior and National Security, Somali Mission to UN, AU, IGAD, regional entities including ASWJ

---Prime Minister special envoy for EEZ issues

---Kampala Process, Secure funding, Resources Mobilization

---Contact Group on Piracy of the Coast of Somalia implementation;

--Counter Maritime Piracy Legislation, agreement between TFG and other administrations

  Benchmark 2: Constitution - (a) the Draft Constitution finalized for adoption

Key Tasks and Timeline Responsibility Resources Compliance

(a) TFG policy decision on how to proceed with the constitutional process by 19 September 2011.

(b) Committee of Somali Experts (maximum 9 persons including up to 4 women) appointed by 19 September 2011 to support the preparation of Draft Constitution;

(c) Begin Consultations with Stakeholders on Federalism and Decentralized System of Administration and other contentious issues by 19 October 2011;

(d) Stakeholders Consultative Meetings to discuss Federalism and Decentralized System of Administration and resolution of other contentious issues by 19 November 2011;

(e) Transitional Federal Charter amended by 19 December 2011 to enable the constitutional process to proceed;

(f) Stakeholders Report on Federalism and Decentralized System of Administration and resolution of contentious issues completed by 30 December 2011;

(g) Draft Constitution published by 20 January 2012; and Stakeholders Consultative Meetings held by 20 March 2012 to validate Draft Constitution; Final Draft Constitution published by 18 May 2012; --Prime Minister, Minister for Constitution,

--Prime Minister and Minister for Constitution; Speaker, in consultation with all Stakeholders

--IFCC, and Committee of Experts,

--Technical Committee, Committee of Experts, SRSG

--Speaker, Minister for Constitution, and PCC, IFCC, Committee of Experts

--IFCC, Committee of Experts,

--As above

--IFCC and Committee of Somali Expert Secretariat

--External Experts and Support Staff; Funding, International Experts, Trainings, Capacity Building

--Budget and Work plan

--Focus Group Discussions

--Draft Amendments

--Civic Education

--Public Information

---Capacity Building

--Publication and Dissemination of Report **Progress report

**Committee of Expert appointed

**Stakeholders Report and Resolutions

**Thematic and Stakeholders Consultation Meetings,

**Charter Amended

**Stakeholders Consultation Report

**Draft Constitution **Stakeholder Meeting**Final Draft Constitution

Benchmark 2: Constitution - (b) the Draft Constitution adopted

Key Tasks and Timeline Responsibility Resources Compliance

(a) Appoint Joint Committee (TFG, TFP, Regional Administrations, Experts, CSO representatives – Maximum 15 persons including 5 women) by 19 September 2011; to undertake preparation for adoption of the Draft Constitution;

(b) Preparatory Plan and Report for provisional adoption of the Draft Constitution completed by 15 November 2011;

(c) High Level Consultative Meeting to discuss the process for federating Somalia through development of the State Governments, Regional and District Administrations held by 19 October 2011 the Meeting should also agree on Preparatory Plan for provisional adoption of the Draft Constitution;

(d) Begin the preparation for provisional adoption of the Draft Constitution by 20 January 2012;

(e) Preparation for provisional adoption of the Draft Constitution completed by 19 April 2012;

(f) Begin provisional adoption process for the Draft Constitution by 20 April 2012; Draft Constitution to be adopted by 1 July 2012;

(g) Constitutional Referendum held in accordance with the provisions of the New Constitution

---President, Speaker, Prime Minister in consultation with all Stakeholders

---Joint Committee

---President, Prime Minister, Speaker, Regional Administrations, Technical Committee CSO, IFCC,SRSG

---Speaker, Minister for Constitution, Joint Committee, PCC, , Technical Committee

---Joint Committee, Technical Committee, IFCC

--Modalities for adoption

--Reformed Parliament, Technical Committee, IMG,

---ToR for Joint Committee, Budget, Work plan, International Experts, Secretariat, Resource Mobilization, Training

---Dissemination

---Stakeholders Meeting Budget and Planning Process

---Joint Report, Stakeholders Agreement, Draft Amendment,

--Dates and sequencing of elections

---Preparatory Plan

--Election Plan and Oversight Mechanisms ***Joint Committee appointed

***Report of the Joint Committee

***Stakeholders Meeting facilitated by SRSG held

***Stakeholders agreement on reform and the modalities for adoption of draft constitution

***Reformed Parliament

***Preparation Plan

***Draft Constitution Adopted and Elections

Benchmark 2: Constitution : (c) Parliamentary Reform

Key Tasks and Timeline Responsibility Resources Compliance

(a) Progress Report on Reform of Parliament by Parliamentary Committee on Reform by 19 September 2011; the Committee to Recommend immediate reforms aimed at making TFP effective to implement the Roadmap;

(b) Reform of TFP to begin by 19 September 2011 and completed by 19 November 2011;

(c) Appoint Joint Committee (TFG, TFP, Regional Administrations, Civil Society and Experts - not more than 15 persons including 5 women) by 19 September 2011 to consult and prepare recommendations and modalities for establishing a new Federal Parliament under a new Federal Constitution. The size and criteria of the new Parliament shall be determined by the Constituent Assembly. All Federal States must be based on the Transitional Federal Charter. The Government shall encourage the formation of new Federal States based on the TFC

(d) Report of the Joint Committee on establishment of a new Federal Parliament under new Federal Constitution ready by 19 November 2011,

(e) Stakeholders Consultative Meeting held by 19 November 2011 to agree on establishment of a new Federal Parliament under new Federal Constitution;

(f) Stakeholders Agreement on establishment of new Federal Parliament under new Federal Constitution included in the Draft Constitution by 20 January 2012; --Speaker, TFP Reform Committee;

---Speaker and TFP Reform Committee ----TFG, TFP, Regional Administrations and Technical Committee,

--Joint Committee,

---Joint Committee, TFG, TFP, Regional Administrations and Technical Committee, AU, IGAD ---SRSG ---Appointment Letter, Terms of Reference of the Joint Committee, Parliamentary Experts, Workshop Work plan, and Budget ---Technical Committee

*** Recommendations for Reforms

*** Reforms to Implement the Roadmap

***Joint Committee Appointed

***Report of the Joint Committee

***Stakeholders Meeting

***Stakeholders Agreement and Report included in Draft Constitution

Benchmark 2: Constitution (d) Elections and Constitutional Referendum

Key Tasks and Timeline Responsibility Resources Compliance

(a) Enact legislative framework for the Interim Electoral Commission

(b) Appoint Competent Members of an Interim Independent Electoral Commission (maximum 9 persons and up to 4 women) by 19 September 2011; to undertake preparations for elections

(c) Prepare guidelines for elections and/or selection of Members of Parliament, State and Regional, and District/Local Administrations, the nomination of candidates, the registration of citizens as voters, the conduct of elections and referendum, the regulation and supervision of elections by 20 December 2011

(d) Enact legislation on Elections including the formation and registration of Political Parties by 30 December 2011;

(e) Prepare plans for Elections and/or Selection/Nomination for Members of Parliament, District/Local Administrations, Registration of Political Parties, Registration of Voters, Voter Education, Civic Education by 20 January 2012; preparations plan to be ready by 20 May 2012;

(f) Begin the Selection/Nomination for Members of Federal Parliament, District/Local Administrations by 20 May 2012; and complete the process by 20 June 2012;

(g) Undertake Elections (direct or indirect) for Members of Parliament, and District/Local Administrations, and President by 20 August 2012 ---Speaker, TFP, Minister for Constitution

--President, Speaker, Prime Minister in consultation with all Stakeholders

---Interim Independent Electoral Commission;

---Speaker, Prime Minister, TFP,

---Interim Independent Electoral Commission; Minister for Interior and National Security; and UN, AU, IGAD

---As above---Interim Independent Electoral Commission, Puntland State of Somali, UN, AU, IGAD

---Appointment Letter, Members of the Commission; Committees, Workshop Work plan, and Budget ---

*** Members of Interim Independent Electoral Commission appointed

***Guidelines Prepared

***Legislation on Elections and Political Parties

***Elections Plans and Political Parties Formed

***Selection and Nomination for MPs

***Elections (direct or indirect)   Benchmark 3: Political Outreach and Reconciliation

Key Tasks and Timeline Responsibility Resources Compliance

(a)Convene High Level Committee Meeting by 19 September 2011 to implement reconciliation with regional entities including ASWJ based on previous agreements and thereafter initiate dialogues and engagement with other groups in Somalia (regional entities should be based on TFC)

(b)TFG in consultation with regional entities including ASWJ to prepare National Reconciliation Plan including resolving inter-clan disputes, inclusive outreach strategy to be approved by parliament by 1 October 2011.

(c)Reform, Revitalize National Reconciliation Commission by 1 October 2011

(d)Support regional entities including ASWJ to coordinate and support local level reconciliation and peace building initiatives across the country by 19 November 2011;

(e)Subject to security visit all regions under the TFG and allied regional entities by 19 November 2011; and/or establish the modalities for supporting and working/establishing local administrations;

(f)Activate the existing Peace Committees within regional entities and facilitate the establishment of new ones by 19 November er 2011 to facilitate local/grass roots reconciliation and peace building initiatives; --President, Speaker, Prime Minister, Council of Ministers, regional entities including ASWJ

---TFG, TFP,

--TFG, TFP, Minister for Constitution and Reconciliation, Minister for Interior and National Security, regional entities including ASWJ

--AS above-

--President, Prime Minister, Speaker --High Level Meeting in Somalia

--Reconciliation Council, Secretariat, Office, Staff, Budget, Resource Mobilization, Work Plan

---District Peace and Security Committees,

-Budget and Work plan, Coordination Mechanisms

-Regions and local administrations to visit, basic social service to population

--Resource Mobilization **High Level Committee meeting convened in Somalia--Reconciliation Council

**Report on District Peace and Security Committees established--Report number of regions and local administration visited, modalities for working with local administrations, basic services

**Modalities for working with local administrations being implemented

  Benchmark 4: Good Governance: (a)Transparency and Accountability Key Tasks and Timeline Responsibility Resources Compliance

(a)Enhance mechanisms for greater coordination and information sharing between Somali and international development and humanitarian agencies by 19 September 2011;

(b)Enact legislation and implement measures by 19 October 2011 to fight corruption and abuse of public offices at all levels of government including (local and regional);

(c)Appoint Competent Members of an Interim Independent Anti-Corruption Commission (maximum 9 persons including 4 women) by 19 November 2011;

(d)Appoint a Competent Task Force by 19 December 2011 to prepare report of all TFG revenues, receipts and expenditures, airport taxes, landing fees, parking fees, over flight fees, port fees and charges including wharfage charges and fees, telecommunications and including from donors, etc; --Minister for Planning, Interior and National Security, Technical Committee

---Prime Minister, President TFP, TC

-Interim Anti-Corruption and Commission, Technical Committee, Minister for Justice

--Prime Minister, Minister for Finance, Planning, Trade

---Minister for Finance, Auditor General, Accountant General

---Prime Minister, Minister for Planning,

--Meeting with Aid Agencies to review coordination mechanism

--Team to undertake Analysis of all Receipts and Expenditures for all TFG Revenues and Income;

--Experts, Field Study – Audit Exercise, Capacity Building

**Report on coordination and information sharing;

**Enhance coordination mechanisms;

***Interim ACC Members

***Measures and Impact on Corruption Report;

**Task Force Appointed

*** Task Force Report

***Fiscal Budget passed by Parliament

***Measures and Impact

  Benchmark 4: Good Governance (b)Public Finance Management

Key Tasks and Timeline Responsibility Resources Compliance

(a) Ensure that all government revenues are collected using official government documents and recorded according to the law and deposited to the Consolidated Fund at the Central Bank by 19 December 2011

(b) Comprehensive Report on all TFG Revenues and Expenditure completed by 20 January 2012;

(c) Review and update existing Civil Service Code/Law by 20 January 2012;

(d) Formulate and approve a National Fiscal Budget for the year 2011/2012 by 31 December 2011;

(e) Initiate the process to develop a National Development and Recovery Strategy by 20 February 2012 --Prime Minister, Minister for Finance, Planning, Trade , Interior

---Minister for Finance, Auditor General, Accountant General

---Prime Minister, Minister for Planning,

---Ministry of Finance National Civil Service Commission, Ministry of Labour,

----Minister for Finance --Meeting with Aid Agencies to review coordination mechanism

--Team to undertake Analysis of all Receipts and Expenditures for all TFG Revenues and Income;

--Experts, Field Study – Audit Exercise, Capacity Building ******Fiscal Budget passed by Parliament

***Measures and Impact Report on Appointment and Discipline of Public Servants