Famine Spreads to New Region, Says UN
750,000 People Facing Death in Next Four Months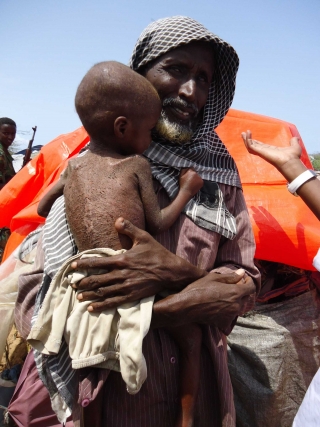 Famine conditions have spread to a new area in Somalia, the al-Shabaab-controlled Bay Region, the UN's Food Security and Nutrition Analysis Unit – Somalia said Monday.
The UN says tens of thousands have already died in the famine, which has been exacerbated by militant Islamist group al-Shabaab's ban on many international agencies working in areas under its control.
FSNAU said the region now joins the Bakool agropastoral livelihood zone, Lower Shabelle, the agropastoral areas of Balcad and Cadale districts of Middle Shabelle, the Afgoye corridor Internally Displaced Person (IDP) settlement, and the Mogadishu IDP community in surpassing the famine thresholds.
An additional 50,000 people in cropping areas of Gedo and Juba and pastoral areas of Bakool face famine-level food deficits, FSNAU said.
The international funding response has been weak, with many aid agencies struggling to hit 50 per cent of their financial targets, and FSNAU said that of the four million people in crisis, some 750,000 were at risk of death over the next four months as a result.
As of early August, only the World Food Programme of ten key agencies polled by Somalia Report had significantly exceeded half of its funding requirements. WFP, which normally spearheads large-scale interventions, is banned from operating in al-Shabaab-controlled areas, and has yet to scale-up its response in government-controlled areas of Mogadishu to the levels required. There are also allegations that WFP contractors are involved in large-scale looting of humanitarian aid.
FSNAU blamed the failure of the last two rains, which has driven up food prices, large-scale displacement and limits on humanitarian access for the scale of the crisis. Local cereal prices across the south are far above average, more than triple 2010 prices in some areas, FSNAU said.
An area is classified as a famine zone when at least 20% of the population face an extreme shortage of food, global acute malnutrition exceeds 30% and death rates exceed two in 10,000 each day.