Feature
The Gold Rush Begins
Contractors, Civilians and Carpetbaggers Coming to Mogadishu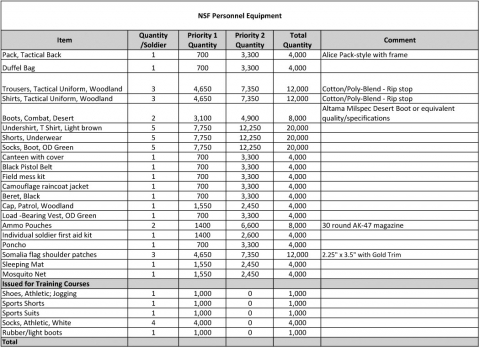 Somalia Report is in the midst of an extensive region wide study into the new "surge" of private security and military contractors in the Horn of Africa. Our focus is Somalia and the maritime region along with the business and governmental elements that makes Somalia run.
High level delegations from Turkey, the UAE and other countries have shown their concern for the needs of the population, but what is not presented to the public is the agenda of commerce that trails behind this new access to Mogadishu. With a new transitional government in power, security achievements and a quasi-rosy outlook, the future looks bright for business between the TFG and and the flood of vendors that descend from the Africa Express flights.
The chatter of guns has been replaced with the chatter to sell gear, programs and even pitches for extensive anti-piracy projects. But Somalia has a colorful history of business deals with security contractors that include many well intentioned but failed projects. Who remembers Somcan, Top Cat, AsGaard, Phoenix that launched a flurry of bold press releases never to actually find success?
We will be detailing these companies, their programs, sponsors and potential vendors along with a brief background on some famous, infamous and little known players. Look for Aegis, NEK, Drum Cussac, Halliday Finch, SKA, Bancroft Global, Saracen, Salama Fikira, HART, PAE, Marquestar, PRS, Glevum, the current OGA programs and many more. This may be the only comprehensive review of all land, maritime, internet-based providers of intel, security, insurance and and other for-profit and non-profit Somali-centric activities.
If you would like to add any insight, information or tips along with photos or documents you may send them anonymously to publisher@somaliareport.com.
For now let the bidding begin with this US-funded request for thousands of sets of military kit for the new improved TFG forces.
A quick glance of the bid reveals some interesting things. First off, that 5% of the TFG forces are XXL. They can't get the uniforms made in China and that the U.S. now considers Mogadishu both safe and dangerous"
"In a general sense, contractor should be aware that work in Somalia carries with it a significant degree of risk, as Mogadishu remains highly dangerous. At time of solicitation, African Union forces have pushed insurgents far from the airport installation, reducing the once substantial threat from mortar/indirect fire attacks, but the insurgents have demonstrated the ability to conduct sophisticated terrorist attacks in the past. While the risks of working in Mogadishu can be mitigated through careful planning, they cannot be entirely avoided, and the contractor should carefully consider its willingness to undertake work in such an environment before submitting a bid."
The lead time to equip 700 new soldiers is only 45 days something the U.S. procurer is already having problems with delivery
"Turn in of the proposal is stated as August 31. However the award date was projected at 15 August (see SOW 7.2(c) ). Based on their projected award date of 15 August, the Priority one shipment to Entebbe was originally planned on 45 days post award and 105 days for Mog. Based on recent African procurement contracts of a much smaller equipment volume we believe that 45 days in not enough time to purchase/manufacture uniforms and boots, sew on patches (4,650), and ship to Entebbe. "
For the link to the U.S. State Department bid go here
Contracting Office Address: P.O. Box 9115 Rosslyn Station Arlington, Virginia 22219
United States Primary Point of Contact.: Brian Koziol koziolbj@state.gov Phone: 7038754983