UNHCR: More Needs to be Done for Famine Relief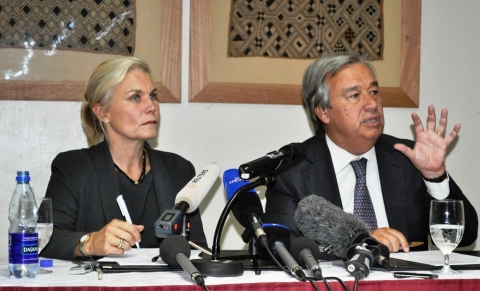 UN High Commissioner for Refugees António Guterres urged the international community to quickly increase aid to drought-affected Somalis.
Speaking at a press conference in the Kenyan capital of Nairobi, Guterres, who was accompanied by Sweden's Minister for International Development and Cooperation Gunilla Carlsson, said the international community should address the root causes of the famine and not simply focus on helping in the short-term.
"The whole humanitarian community needs to scale up assistance to reach people wherever they are in Somalia," said Guterres, who made the first visit to Mogadishu by a UNHCR chief since the 1990s.
Guterres and Carlsson said they talked to several displaced Somalis in Dollow, located in south-western Somalia, and Mogadishu.
"During our visit, we saw large numbers of Somalis camped in different parts of the capital and in urgent need of lifesaving aid," he said. "Somalis should have the right to choose to stay in their own country."
Carlsson said Sweden anticipated the crisis at an early stage and has contributed with significant funding.
"Sweden counts among the five largest humanitarian donors to the ongoing crisis in the Horn of Africa," she said. "The total Swedish support to the horn during 2011 amounts to USD $116 million. Of that, $59M is for Somalia."
The UN estimates that one in three Somalis are in urgent need of humanitarian assistance and a third of all children living in south-central Somalia are malnourished.
On the other hand, Executive Director and Northern Kenya Caucus Board chairman for the Kenya-Somalia NGO's Consortium, Ibrahim Ahmed, told Somalia Report that not enough has been done.
"We are not saying there is not enough excellent work being done at refugee camps in countries bordering Somalia and presumably now in Mogadishu. What we are saying is there is a lack of coordination and supervision. Even if aid is being sent, our survey indicates that little is happening on the ground," explained Mr. Ahmed.
"Millions are starving and parents are watching their children die. The situation in the Horn of Africa is becoming increasingly desperate. Aid organizations are also facing enormous difficulties in their attempts to help hundreds of thousands of those suffering, but it's a race against time," he added.
In the past two months, more than 100,000 Somalis, mostly livestock farmers, have fled to the capital from the drought-scorched regions of Bay, Bakool and Lower Shabelle, according to UNHCR.