Somali Aid Agency Distributes Food for Lepers
Fears Disease Could Spread if Lepers Go in Search of Food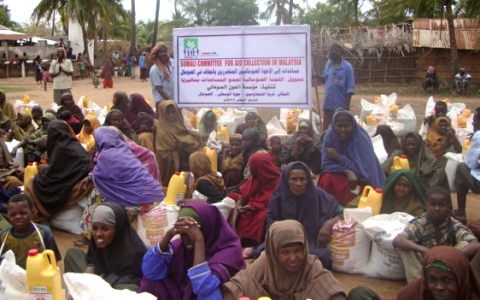 A Somali aid agency has distributed humanitarian aid from the diaspora in Malaysia to hundreds of leper families in the surroundings of al-Shabaab-controlled Jilib district in the middle Juba region of southern Somalia, residents said.
The humanitarian aid reached more than 200 families living in desperate conditions in Faragurow Camp, according to resident Abdulkarim Mukhtar Da'uud.
Da'uud said that despite complaints from international agencies that they cannot operate in al-Shabaab areas, this delivery shows it is possible.
"If the humanitarian agencies and their staff are afraid to reach here, they must hire or engage the local humanitarian agencies like Somali Aid and others to reach the needy people; every day people are dying of a lack of basic needs," he said.
Al-Shabaab has banned many aid agencies from operating in areas under its control, and negotiations have provided only limited access for a select few.
An aid official, who wished to remain anonymous, said families – particularly the ostracized lepers – were living in dire conditions.
"Most of the people suffering from leprosy ... were unable to reach the main cities to get food and medication because most of them they have lost one of their hands or legs," he said.
Leprosy in Somalia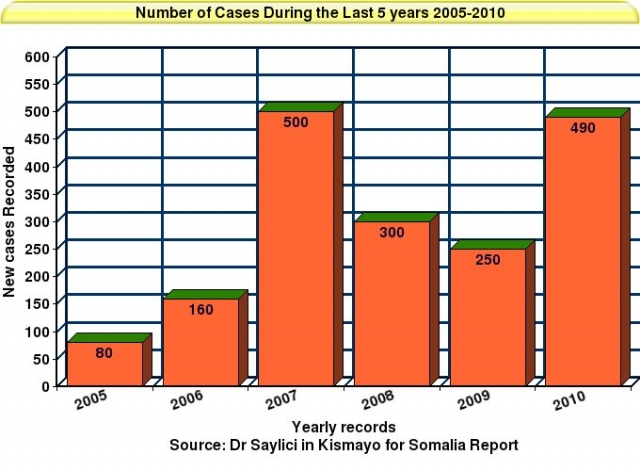 Leprosy – a curable disease - dates back to the Italian colony era in Somalia during 1920-1960, when lepers were relocated to riverside regions from Hiiran to Lower Juba, according to Dr Abdurrahman Warsame Saylici, who lives in Kismayo.
More than 1,200 lepers are on the verge of death, Saylici said.
He said the condition of leprosy victims has been deteriorating since 1991, when military dictator Mohamed Siad Barre was overthrown by clan militias, and worsened during the instability and famine.
Saylici is worried the disease could spread through the southern regions of the country if the leprosy victims leave their specific camps in search of food.